EVS Volunteers & Interns already in Iceland!
20.05.2009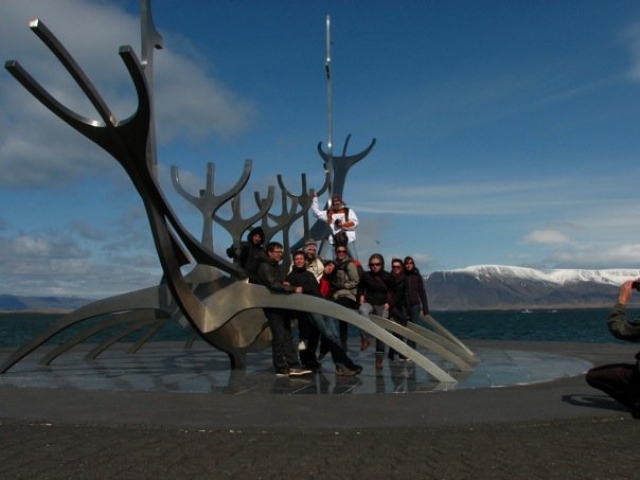 This year's EVS volunteers have just arrived and looking forward for the upcoming season of projects all around the country!
At the beginning of May, thirteen EVS (European Voluntary Service) volunteers from ten countries arrived to work with SEEDS for long term voluntary service. They are: Hannah from Austria, Olivier from Belgium, Barbora and Jakub from the Czech republic, Sara and Francois from France, Francesca and Mauro from Italy, Vita from Latvia, Mariëlle from the Netherlands, Filipa from Portugal, Lukas from Slovakia and Benjamin from the UK.
Their main role will be to support with coordinating International, environmental based workcamps, which will take place all over Iceland.
The volunteers include six international workcamp leaders and six 'environmental messengers'. They have participated in a training lasting two weeks which will help them to in their roles. They are going to participate in most of workcamps what SEEDS is organising and provide all workcampers with environmental awareness and intercultural learning.
At the moment some of the volunteers are participating in two projects, one in Höfn, where they are helping to build hiking paths and another in Vestmannaeyjar, where they are working to stop erosion.
Since they arrived they have not only been working, they have taken part in a treasure hunt around the city of Reykjavik, had some international evenings trying food from our countries and we went to the cinema to see the Icelandic film 'Dreamland'.
Over the summer we will also have two interns in our office here at SEEDS, one from the UK, Edward and György from Hungary. They will be working in the SEEDS office helping to expand SEEDS, and working to support the camps and the other volunteers through the summer. They will also take a role in the workcamps we have coming up here in Reykjavik.
The EVS volunteers and interns are very much looking forward to working with SEEDS and some of you in further projects.
Find your workcamp
Icelandic Experience
SEEDS main supporters