SEEDS 136. New Year's Environmentally aware in Reykjavik
Capital Region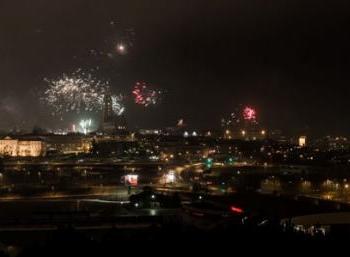 From 29.12.2015 to 06.01.2016
Type:
Environmental / Education
Number of volunteers: 8
Language: English will be the language in the camp; basic conversational skills are needed.
Accomodation: SEEDS participants will stay in a shared rooms accommodation in Reykjavík. Please bring your own sleeping bag.
Participation fee: 250 EUR
Extra: Excursions (Blue Lagoon, Golden Circle or South shore) can be arranged at discount fares.
WORK/PROJECT: Our work camp will allow you to learn about both global and local environmental issues through theory and practice as well. If you are concerned, for example, about global climate, waste management, animal protection, sustainability and other topics this work camp might be the best for you. Local Icelandic environmental issues as well as issues from the participants' countries will be addressed through discussions. Becoming one of more than one million tourists coming to Iceland every year might leave a mark. Do you want to know how to diminish your environmental impact as a traveller?
Each of our Environmentally Aware work camps will get a chance to improve local environment through hands-on activities. The specifics of the work might depend on weather conditions and schedule of our partners.
Please note that this project is more a learning/sharing camp and not a standard workcamp; we may be able to organize some voluntary service but in some cases it will not be possible.
ACCOMMODATION: SEEDS participants will stay in a house in Reykjavík. The facilities are basic with a shower, washing machine, kitchen and everyone is expected to show consideration for their companions. We will sleep in shared rooms in a sleeping bag accommodation. Please bring your own sleeping bag.
We will receive food supplies and be in charge of the cooking and cleaning activities. Do not forget some traditional/typical food from your home country for the international evening.
LOCATION: Reykjavik is a dynamic, modern city which lives in harmony with beautiful nature, using renewable energy sources - geothermal power and glacial rivers.
The world's northernmost capital bridges the Atlantic, between Europe and North America. Reykjavík is spread across a peninsula with a panoramic view of the mountains and the Atlantic Ocean on almost all sides. Reykjavik is often called "the nightlife capital of the north", but there is so much more than pubs and clubs, it also gathers the most interesting of Icelandic culture.
From meeting locals in swimming pools to passing by Icelandic musicians on the street, the city seems cosy and cosmopolitan, traditional and modern.
In the area closer than 100 Km from Reykjavík, there are several spectacular waterfalls, geysers, impressive coastline, geothermal park, lakes, mountains and many more.
The Reykjanes peninsula features the Blue Lagoon spa, the treasure of Icelandic hot pots.
The geothermal water has a unique composition, featuring three active ingredients –Silica, Algae & Minerals. It is one of the most visited places on the island.
In January you can see the Northern lights (Aurora Borealis) in Iceland.
LANGUAGE: English will be the language in the camp; basic conversational skills are needed.
TERMINAL: Closest international Airport: Keflavík/Reykjavík (KEF). Bus station: Central Reykjavík (BSÍ).
EXTRAS / SPECIAL REMARKS: Participation fee EUR 250 (Euros). Please note that these fees are to be paid to SEEDS on arrival in either Euros or Icelandic krónas.
Participants should have a motivation to learn and share on environmental and global issues, and should be open to new cultures. All volunteers are encouraged to bring environmental and sustainability suggestions to the group and collaborate with the leader in planning activities.
Excursions (Blue Lagoon, Golden Circle or South shore) can be arranged at discount fares.
Weather in Iceland is unpredictable and it can be cold or rainy. Please bring warm waterproof clothes, waterproof boots, overcoats, scarves, gloves and hats as part of the project may take place outside.
Age: 18+
Find your workcamp
Icelandic Experience
SEEDS main supporters