SEEDS 19. Western fjords - Hólmavík hiking paths
West Fjords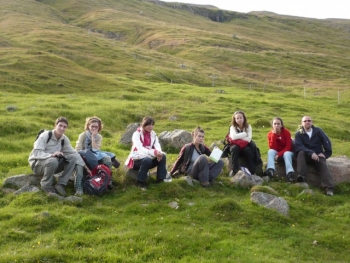 From 08.06.2009 to 20.06.2009
Number of volunteers: 10
Language: English - high proficiency is not required
Accomodation: Local housing
Participation fee: 100 EUR
Extra: SEEDS volunteers will be working on restoring and maintaining those hiking pathways.
WORK/PROJECT: Strandir (the coasts), located on the north-eastern part of the western fjords of Iceland are a hiker's paradise. Some of the most popular walking paths have not been maintained in a proper way for quite some time. Therefore SEEDS volunteers will be working on restoring and maintaining those hiking pathways. To maintain these pathways is very important to encourage people in the area to enjoy the beautiful environment they live in and so that they can do it in a way that does not spoil the nature around the pathways.
Well maintained paths enable people to visit these amazing areas without damaging them and this important work also helps to improve safety for visitors. No previous experience of this work is necessary. The working day normally runs from 09:00 - 17:00 with breaks for lunch and coffee. However, please be prepared for some flexibility due to the nature of Iceland's weather.
ACCOMMODATION: Volunteers will be hosted in a local school; sleeping on mattresses on the floor; bringing a warm sleeping bag is highly recommended.
Food ingredients will be provided and a kitchen will be available, volunteers will share the duties of preparing and cooking meals. Bathing facilities will be in the nearby local swimming pool.
LOCATION: The region of Strandir was for centuries one of the most remote areas in Iceland, known for the inhabitants' knowledge of magic and as a refuge for criminals and outlaws. The landscape of Strandir is far from uniform, the low hills of Hrútafjörður in the south gradually change to 700 m high mountains rising straight from the coast in the northern part.
The population in the Strandir region is only litle under 800. The town Hólmavík and Drangsnes village are the most heavily populated areas; around 400 people live in Hólmavík and barely 100 live in Drangsnes. The people of Strandir live almost entirely on traditional fishing and farming and are increasingly aware of their heritage and will proudly tell tales of their ancestors' dealings with ghosts and other supernatural beings.
Going to Strandir you will travel through the whole range of Icelandic flora from the shore and meadows, through birch and willow, to mossy moorlands with an exceptional view across Húnaflói bay and far into the interior. On a stroll amidst the driftwood on the shore one can see birds and seals and the occasional arctic fox around the deserted farmsteads. Strandir area is very popular among hikers. There are many beautiful hiking trails all over the region, some suitable for all ages and some for the hiking specialsts.
It has often been said that the people of Strandir know a bit more about witchcraft and sorcery than others, and to underscore that claim The Museum of Sorcery & Witchcraft, which takes one on a magical tour into the mystical world of the supernatural, is to be found in the area. The museum covers magic practiced during the 17th century, as well as folktales, in a most informative and enjoyable way.
LANGUAGE: English will be the official language in the camp, high proficiency is not required.
STUDY THEME: Environmental messenger in the project. S/he will be in charge of delivering ecological and global education messages to both, International volunteers and local hosts through organised activities as workshops, presentations, simulations, discussions, games on topics related to environment, nature protection and sustainability as use of resources, globalisation, millennium development goals, global warming, fair trade, recycling, consumption, etc..
TERMINAL: Closest International Airport: Keflavík (Reykjavík), KEF. Bus terminal: Hólmavík. SEEDS organises the "minibus option", a shared transport from Reykjavík to the camp and vice-versa, which apart from being cheaper and more convenient, allows volunteers to meet and have a relaxed trip, while stopping on the way for interesting and tourist sites.
SPECIAL REMARKS / EXTRAS: Participation fee EUR 100,- (Euros). Free time activities will be organized for SEEDS volunteers.
Find your workcamp
Icelandic Experience
SEEDS main supporters