SEEDS 16. Fljótsdalshérað - Icelandic North-east (1)
East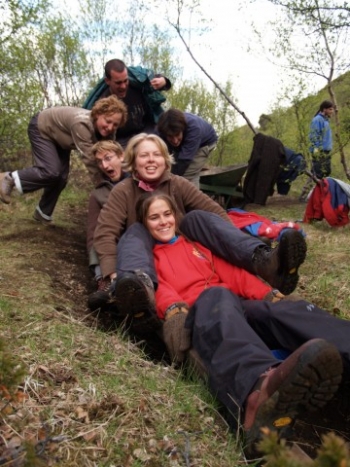 From 03.09.2009 to 17.09.2009
Type:
Agriculture / Environmental
Number of volunteers: 14
Language: English - high proficiency is not required
Accomodation: Local housing
Participation fee: 100 EUR
Extra: Free time activities will be organized for SEEDS volunteers.
WORK/PROJECT: Volunteers will be working at one of the few organic farms in Iceland, located in the municipality of Fljótsdalshérað, close to Egilsstaðir in the East of Iceland. The main tasks will be to harvest (by hand), potatoes, beats, beetroots, carrots and lettuce. Alongside harvesting volunteers will clean the vegetables and make them ready for consumers. Around the farm there is a young forest that has to be maintained / cleaned.
ACCOMMODATION: Volunteers will be hosted in a local housing; sleeping in bunk beds; bringing a warm sleeping bag is highly recommended. Food ingredients will be provided and a kitchen will be available, volunteers will share the duties of preparing and cooking meals.
LOCATION: The farm, one of the largest organic farms in Iceland is run with the support of volunteers; who have been supporting the project of organic locally grown crops for the last years. About 20% of the farm is used for cultivation of different crops and the rest of the land is grassland and a forest of about 1 million trees planted there since starting the farm in the 1970s. The two major crops grown are barley and potatoes, and others include parsley, kale, beet root, lettuce, kohlrabi, carrots and cabbage.
The farm is located in the municipality of Fljótsdalshérað, in eastern Iceland. Total population is 3.695 (01.01.2009) and at 8.884 km², it is the largest municipality (in area) in the country. The biggest town in there is Egilsstaðir, about 15 minutes drive away from the farm.
Fljótsdalshérað is Iceland's easternmost populous municipality. The massive land area of this municipality stretches from Biskupsháls in the west and Héraðsflói bay in the north to the mountain ranges surrounding the central eastern fjords in the east and to Vatnajökull and Öxi in the south. The wild reindeers of Iceland are found in Fljótsdalshérað, they are about five to ten thousand. The biggest forest in Iceland, Hallormstaðarskógur is also located in Fljótsdalshérað, close to the farm.
Fljótsdalshérað is home to a progressive, energetic society, in keeping with the special environment of the area. Affected by the inviting surroundings and comfortable climate, the cordiality of locals provides a warm welcome for those arriving in the municipality. There is a large range of cultural activities, as well as ambitious work in music, art, drama and varied undertakings by other organisations. Living museums sponsor exhibits and an assortment of presentations and entertaining programmes.
Famous for its natural beauty and pleasant climate, often resembling that on the Continent, Fljótsdalshérað is particularly characterised by woods, whose appearance in the environment is special for Iceland. The local society, waterfalls, lakes and rivers contribute to the many scenic attractions favourable for outdoor recreation. There are many enjoyable walking routes through forests and open areas, and trips into nearby mountain ranges are popular regardless of the time of year. Not only is the fauna varied, but there are outstanding opportunities for bird-watching, besides the unique chance to view reindeer in Iceland.
LANGUAGE: English will be the official language in the camp, high proficiency is not required.
STUDY THEME: Environmental messenger in the project. S/he will be in charge of delivering ecological and global education messages to both, International volunteers and local hosts through organised activities as workshops, presentations, simulations, discussions, games on topics related to environment, nature protection and sustainability as use of resources, globalisation, millennium development goals, global warming, fair trade, recycling, consumption, etc..
TERMINAL: Closest International Airport: Keflavík (Reykjavík), KEF. Domestic airport is Egilsstaðir (EGS). SEEDS organises the "minibus option", a shared transport from Reykjavík to the camp and vice-versa, which apart from being cheaper and more convenient, allows volunteers to meet and have a relaxed trip, while stopping on the way for interesting and tourist sites.
SPECIAL REMARKS / EXTRAS: Participation fee EUR 100,- (Euros). Free time activities will be organized for SEEDS volunteers.
Find your workcamp
Icelandic Experience
SEEDS main supporters