SEEDS 18. Borgarfjörður - Borgarbyggð. West of Iceland
West Fjords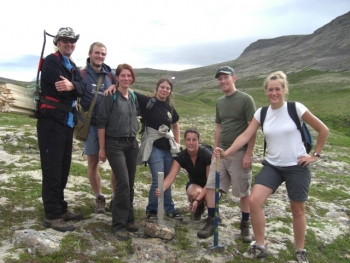 From 28.07.2008 to 11.08.2008
Type:
Environmental / Construction
Number of volunteers: 16
Language: English - high proficiency is not required
Accomodation: Local Sports centre
Participation fee: 150 EUR
Extra: Excursions & Swimming pool free access!
WORK/PROJECT: SEEDS will join efforts in this project with Skógræktarfélag Íslands (The Icelandic Forestry Association) and its local society in the area of Borgarfjörður - Skógræktarfélag Borgarfjarðar- in order to maintain and make more accessible existing forests in the area. Most of the work volunteers will be doing is related to trail management and conservation work in the hiking areas, including trail building, reconstruction and path marking. Work will be physically demanding and may involve hikes to reach the working sites.
Well maintained paths enable people to visit these amazing areas without damaging them and this important work also helps to improve safety for visitors. No previous experience of this work is necessary as training will be provided by experienced leaders and local host. The working day normally runs from 09:00 – 17:00 with breaks for lunch and coffee. However, please be prepared for some flexibility due to the nature of Iceland's changeable weather.
Skógræktarfélag Íslands was founded in 1930. It is a nationwide alliance of 61 local and regional forestry societies, with a combined membership of about 7500 people. The Association is a non-governmental organisation and is a major movement for nature conservation in Iceland.
The main objective of local and regional societies is to promote tree planting, forestry and nature conservation. The societies co-operate closely with other organisations and local communities in working towards these objectives. Administrative work in the societies is mostly carried out by volunteers, as is much of the planting and other work the societies engage in.
ACCOMMODATION: Volunteers will be hosted in a local sports centre in Varmaland, where we will sleep on mattresses on the floor; therefore bringing a warm sleeping bag is highly recommended. Food ingredients will be provided and a kitchen will be available, volunteers will share the duties of preparing and cooking meals.
LOCATION: Borgarfjörður is a fjord in the west of Iceland near the town of Borgarnes. Borgarbyggð is a municipality in Vesturland region of Iceland. The biggest town in the municipality is Borgarnes, with a population of 2000. The waters of Borgarfjörður appear to be calm, however the fjord is on the contrary a rather dangerous part of the sea because of its undercurrents and shallows. There are many flat islands lying in the fjord, but for the most part they are uninhabited.
The land around the fjord has been inhabited since the time of Icelandic settlement. Events in the Icelandic sagas such as that of Egill Skallagrímsson are situated here. The name of the fjord seems to come from the farm of Borg, which according to the sagas was founded by Egill's father Skallagrímur, who took the land around and accordingly gave the fjord the name of Borgarfjörður.
Unlike most other coastal settlements, Borgarnes isn't dependent on fishing – powerful tidal currents in the fjord have put paid to that – but is primarily a service centre for the surrounding dairy farmers who rely on the town's slaughterhouse and good roads for their livelihoods. However, the town's main claim to fame is its historical association with the ninth-century settler, Skallagrímur Kveldúlfsson, father of the pirate, thug and poet Egill Skallagrímsson, hero of Egill's Saga. Their lives and times are explored in a first-rate museum, while plenty of Borgarnes' streets recall characters from the saga: Skallagrímsgata, Kveldúlfsgata, Böðvarsgata, Egilsgata, etc.
LANGUAGE: English will be the official language in the camp; high proficiency is not a requirement.
STUDY THEME: Environmental messenger in the project. S/he will be in charge of delivering ecological and global education messages to International volunteers and local hosts.
TERMINAL: As last years, SEEDS will organise the "minibus option", a shared transport from Reykjavík to the workcamps and vice versa, which apart from being cheaper and more convenient, allows volunteers to meet fellow campers and have a relaxed trip to the project site, while stopping on the way for interesting and tourist sites. Closest international Airport: Keflavík (Reykjavík), KEF.
EXTRAS: Participation fee EUR150. Volunteers will get passes to access free of charge the community's swimming pool. Hikes and excursions will be organised for SEEDS volunteers.
Find your workcamp
Icelandic Experience
SEEDS main supporters