SEEDS 09. Eskifjörður
East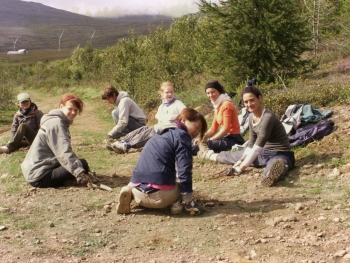 From 15.08.2006 to 29.08.2006
Number of volunteers: 12
Language: English
Accomodation: House belonging to the local community with standard facilities
Participation fee: 120 EUR
Extra: Free entrance to the local swimming pool and excursions to be arranged by the local contacts.
WORK / PROJECT: Cooperation established with the township of Fjarðabyggð has started to develop with their environmental department. Volunteers will mainly work on finishing an already started project, the construction of a hiking path guiding visitors and locals to a nearby beautiful area of Hólmanes. Additional work might include planting trees and cleaning up tasks in the mentioned area.
ACCOMMODATION: Volunteers will be accommodated in a house belonging to the local community with standard facilities. Meals will be prepared and cooked by volunteers themselves.
LOCATION: Located in the East of Iceland, Eskifjörður town (about 750 Km away from Reykjavík) named after the fjord on which it is situated, is built on a small sand spit and up the slopes of the mountain on the fjord's northern shore.
Its main industries are fishing and small-scale farming. Eskifjörður became an authorized Danish trading post in 1786 and has been a commercial center since 1798. One of the several shops in Eskifjörður, Gamlabúð, built in 1816, houses the Maritime Museum Of East Iceland.
Eskifjörður town faces the magnificent mountain Hólmatindur, from the top of which one can view some of the tallest mountains in the Icelandic interior. One of the favored sights in the area is the Helgustaðanáman mine, which is one of the world's best-known sources of Icelandic spar. The area, which is just a ten-minute drive from the town, is a nature reserve and open to all, free of charge.
A swimming pool with hot pots and a sauna is located in Eskifjörður, as well as a gallery and crafts shop.
LANGUAGE: English will be the official language in the camp.
TERMINAL: Closest International Airport: Keflavík (Reykjavík), KEF, nearest domestic airport is Egilsstaðir (EGS), while the closest bus stop is in town.
Find your workcamp
Icelandic Experience
SEEDS main supporters