SEEDS 03. Öxarfjörður
North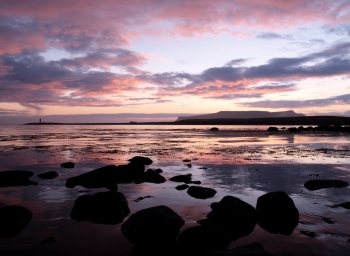 From 16.06.2006 to 30.06.2006
Number of volunteers: 10
Language: English
Accomodation: Local guesthouse
Participation fee: 100 EUR
Extra: Excursions and free time activities in the area will be arranged for the volunteers.
WORK / PROJECT: Seeds, SEE beyonD borderS, cooperates with the local county in the North East of Iceland developing projects on environmental and nature-related issues. Volunteers will work mainly in three different tasks: First: Cleaning-up the coastline; due to drift currents, sea waste and big amounts of timber originally from Siberia come ashore in the area, our project will focus on this task. Second: Marking and maintenance of hiking paths; and third reforestation and erosion control work in the area, basically planting trees.
ACCOMMODATION: We will be hosted in a local guesthouse in Kópasker with all facilities included. A kitchen will be available for volunteers to prepare and cook their meals.
LOCATION: Öxarfjörður is the name of the big bay between the peninsulas Tjornes and Melrakkasletta. It is about 30 km wide, but rather short. The Tjornes side is precipitous and then flat sands, deposits of the glacial river Jökuls, take over all the way to the Melrakka-peninsula in the east. When the river is laden with mud and sand the discolouration of the bay is obvious. The glacial river Jökuls divides in several branches and runs into the sea in the fjord. The coastline of Öxarfjörður stretches for kilometer after kilometer across this huge bay. It's open to the big seas of the Arctic Ocean and there are no good harbours there except for the small town of Kópasker on the side of the bay. Kópasker is located in the north-east of Iceland and the distance between the town and Reykjavík is about 620 Km.
LANGUAGE: English will be the official language in the camp.
TERMINAL: Closest International Airport: Keflavík (Reykjavík), KEF. Nearest domestic airport is Húsavík (HZK) and closest bus terminal is Kópasker.
Find your workcamp
Icelandic Experience
SEEDS main supporters