SEEDS 065. Meet us - don't eat us (5:6)
Capital Region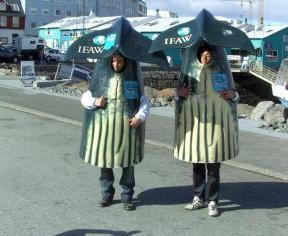 From 30.07.2012 to 12.08.2012
Number of volunteers: 12
Language: English - high proficiency is not required
Accomodation: SEEDS volunteers will stay in a fully equipped house; in a sleeping bag accommodation sharing rooms. Please bring your own sleeping bag. Volunteers will receive food and be in charge of the cooking and cleaning activities. Equipped kitchen and washing ma
Participation fee: 200 EUR
Extra: Participation fee EUR 200 (Euros). SEEDS will provide volunteers with passes to go on free whale watching trips. Excursions (Blue Lagoon, Golden Circle, South shore, etc) arranged for SEEDS at discount fares.
WORK/PROJECT: SEEDS volunteers will take part in a whale-awareness and protection project run in cooperation with IFAW (International Fund for Animal Welfare). This mainly consists of distributing information, conducting a survey, preparing the local communities for port visits from the research boat, having people fill out postcards that will be taken to the government at the end of the work camp, talking to people and having fun in Reykjavík!
The group will take turns wearing a whale costume and walk around downtown Reykjavík. One part of our project is also to let pedestrians try on the costume and take pictures. This project is fun loving, friendly and peaceful. We encourage each volunteer to come prepared with some ideas of awareness rising for this project, to discuss with the group and implement.
The purpose of this project is to raise awareness among tourists (and locals) that by tasting whale meat in Icelandic restaurants they encourage whaling. The truth is that most Icelanders have never tasted whale meat and do not intend to do so. In a survey made by Gallup in 2007, 86% of those asked had not purchased whale meat in the last 12 months; however 67% where in favour of commercial whaling. This seems obscure, but explanations can be found in the nation's heritage.
In Iceland we have the saying 'Hvalreki' or 'Beached-Whale' meaning 'Jack-pot'. When a whale beached, the whole community had food for long time, and had indeed hit the jack-pot. Later Icelanders started whaling for the oil, that at one time was used for lighting street-lamps in cities such as Paris. This created work and foreign currency and improved life in the country at that time.
Iceland was one of the first countries to ban commercial whaling. We can help Iceland to make a positive decision again, by educating the growing number of people who eat up to 40% of the whale meat consumed in the country, but at the same time say they are against whaling.
ACCOMMODATION: SEEDS volunteers will stay in a fully equipped house; in a sleeping bag accommodation sharing rooms. Please bring your own sleeping bag.
Volunteers will receive food and be in charge of the cooking and cleaning activities. Equipped kitchen and washing machine are available.
Do not forget some traditional/typical food from your home country for the international evening.
LOCATION: Reykjavík is the capital of Iceland, often called "the nightlife capital of the north". But there is more to Reykjavík than pubs and clubs. Reykjavík also gathers the most interesting of Icelandic culture. It is an incubator of new ideas and styles which often indicates new global trends. It is an International city with a lively Cosmopolitan cultural scene.
The world's northernmost capital bridges the Atlantic, between Europe and North America. Reykjavík is spread across a peninsula with a panoramic view of the mountains and the Atlantic Ocean on almost all sides.
The population of the city is over 200,000 including the metropolitan area, so two thirds of Iceland's inhabitants live here. Reykjavík is a dynamic, modern city which lives in harmony with beautiful nature, using renewable energy sources - geothermal power and glacial rivers.
In the area closer than 100 Km from Reykjavík, there are several spectacular waterfalls, geysers, impressive coastline and the well-known geothermal Blue Lagoon spa to visit.
LANGUAGE: English will be the language in the camp; basic conversational skills are needed.
TERMINAL: Closest international Airport: Keflavík/Reykjavík (KEF). Bus station: Central Reykjavík (BSÍ).
EXTRAS / SPECIAL REMARKS: Participation fee EUR 200 (Euros).
SEEDS will provide volunteers with passes to go on free whale watching trips.
Excursions (Blue Lagoon, Golden Circle, South shore, etc) arranged for SEEDS at discount fares.
Find your workcamp
Icelandic Experience
SEEDS main supporters