SEEDS 002. Reykjavík: Design, Renovation & Environment
Capital Region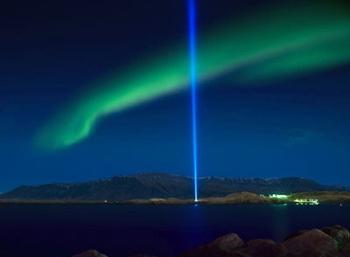 From 15.03.2012 to 28.03.2012
Type:
Renovation / Environmental / Arts
Number of volunteers: 8
Language: English - high proficiency is not required
Accomodation: SEEDS volunteers will stay in a fully equipped house in Reykjavík; sleeping in shared rooms. Please bring your own sleeping bag.
Participation fee: 120 EUR
Extra: Tours and excursions (Golden Circle, Blue Lagoon or South Shore) will be arranged for SEEDS volunteers at discount fares.
WORK / PROJECT:
This particular project will combine different tasks within Reykjavík city with different partners, which ensures diverse daily tasks and various experiences at once for SEEDS volunteers.
The main tasks of the project is to give support to DesignMarch 2012; which takes place on the weekend of March 22th -25th; where volunteers will assist in various tasks connected to the artistic events and supporting the organisers.
Possible tasks may include handing out invitation letters, sorting out information in the office, receiving guests at the airport, driving them and running errands for the festival. In some instances volunteers might get the chance to help artists to put up their exhibitions. As volunteers will have to communicate with the project managers, artists and guest it is required that they have adequate level of English.
DesignMarch is a four day feast for designers, artists, those with an interest in design, the public and tourists alike. The first three DesignMarch programmes 2009-2011, were splendid and diverse, with events reflecting a wide range of design; for more information on the event 2012 click here.
Other tasks during the work camp may include work on the house where we will stay, which is run as a volunteer base and most of the maintenance and renovation is in the hands of volunteers.
We might also assist in the city to keep the public areas lively, attractive, interesting and charming for both the locals and the guests of the city and participate in local events and happenings.
ACCOMMODATION:
SEEDS volunteers will stay in a fully equipped house in Reykjavík; sleeping in shared rooms. Please bring your own sleeping bag.
Volunteers will receive food and be in charge of the different cooking and cleaning activities. Equipped kitchen and washing machine are available. Do not forget some traditional/typical food from your home country for the international evening.
LOCATION:
Reykjavík is the capital of Iceland, often called "the nightlife capital of the north". But there is more to Reykjavík than pubs and clubs. Reykjavík also gathers the most interesting of Icelandic culture. It is an incubator of new ideas and styles which often indicates new global trends. It is an International city with a lively Cosmopolitan cultural scene.
The world's northernmost capital bridges the Atlantic, between Europe and North America. Reykjavík is spread across a peninsula with a panoramic view of the mountains and the Atlantic Ocean on almost all sides.
Reykjavík is a dynamic, modern city which lives in harmony with beautiful nature, using renewable energy sources - geothermal power and glacial rivers.
March is the last month when you can see, with a piece of good luck, the Northern lights (Aurora Borealis) in Iceland. In the area closer than 100 Km from Reykjavík, there are several spectacular waterfalls, geysers, impressive coastline and the well-known geothermal Blue Lagoon spa to visit.
LANGUAGE:
English will be the language of the camp; intermediate level is required.
TERMINAL:
Closest international Airport: Keflavík/Reykjavík (KEF). Bus station: Central Reykjavík (BSÍ).
EXTRAS / SPECIAL REMARKS:
Participation fee EUR 120 (Euros).
Volunteers have to bring warm clothes, hats, gloves and scarves as part of the project takes place outside.
Tours and excursions (Golden Circle, Blue Lagoon or South Shore) will be arranged for SEEDS volunteers at discount fares.

Age: 18+
Find your workcamp
Icelandic Experience
SEEDS main supporters