SEEDS 06. Selárdalur - Arnarfjörður. Listasafn Samúels Jónssonar
West Fjords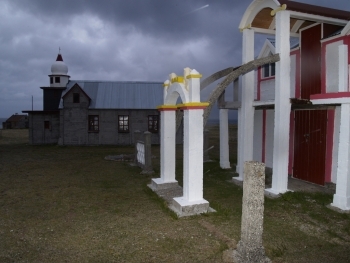 From 27.07.2008 to 10.08.2008
Type:
Festival / Environmental
Number of volunteers: 8
Language: English
Accomodation: Local house.
Participation fee: 120 EUR
Extra: Excursions in the area will be arranged for volunteers.
WORK/PROJECT: Volunteers will be working on a particular project at the artworks of Samúel Jónsson, an Icelandic artist, who lived at Selárdalur. During the summer of 2008 volunteers will work taking down Samúel´s living house in order to build there a new one with a similar front that can serve as a home for artists. This will be the second year in a row that SEEDS volunteers support the works there, which had been rapidly decaying after Samúel's dead, until the year 1998, when a society for its restoration was
founded. The society is also a non-for profit organisation and has had collaboration with the
German sculptor Gerhard König and some others to work on the restauration during the past years.
ACCOMMODATION: Volunteers will be hosted at a local house; sleeping on mattresses on the floor; therefore bringing a warm sleeping bag is highly recommended. Food ingredients will be provided and a kitchen will be available, volunteers will share the duties of preparing and cooking meals.
LOCATION: Selárdalur is the outermost of the Ketildalir valleys on the west side of Arnarfjörður, located in the Icelandic Western Fjords, which are too often missed by visitors due to its distance (real and perceived) from Route 1, the circle road, and from other population centers. The West Fjords are a mass of fjords, mountains and isolated villages on spits of lands surrounded by water and mountains. The area includes its own glacier, the magnificent, remote Hornstrandir and Europe's westernmost point at Látrabjarg, where millions of birds nest, a must for bird watchers. Samúel Jónsson was a farmer who lived in the isolated valley of Selárdalur, he was born in 1885 and died in 1969. Samúel always dreamed of being an artist and started carving and drawing as a young boy. But he had to work very hard to earn his living. Things changed when he got his old age pension around the age of 65. Until then he didn't have much opportunity to practice his artistic skills. In his old age Samúel began building palaces and sculptures for the money he got as old age pension. He began adding to his living-house. Then he built a museum for all his things, sculptures as well as paintings with carved frames which he made during the winter. Samúel built a
grotesque but charming resemblance to the lion's fountain in the Alhambra-palace in Granada, Spain, and many sculptures showing seals and other animals as well as figures from Icelandic history like Leif the lucky who found America. When the church in the valley was one hundred years Samúel wanted to give it an altarpiece he had painted; the church-committee decided to reject Samúel's altarpiece because they thought the old altarpiece was good enough. Then Samúel started building a church on his own around his altarpiece, a church that still stands as a monument commemorating this old man´s ingeniousity and marvellous willpower to make his own dreams come true by means of simple concrete. Selárdalur is the home of another remarkable person, Gisli Gislason. He lived alone on a farm named Uppsalir almost without any communication with other people. He was famous for living in total harmony with nature, not having to use any money or modern facilities such as electricity, machines or vehicles. Now there are plans to make a museum out of his former home. The distance from Reykjavik is 500 km (7-8 hours drive) by the Whale Bay tunnel but only 325 km via
Stykkisholmur and by the ferry to Brjanslaekur. It is perhaps one of Iceland's most remote areas.
LANGUAGE: English will be the official language in the camp, but high proficiency is not a requirement.
STUDY THEME: Environmental messenger in the project. S/he will be in charge of delivering ecological and global education messages to both, International volunteers and local hosts.
TERMINAL: Closest International Airport: Keflavík (Reykjavík), KEF.
Find your workcamp
Icelandic Experience
SEEDS main supporters