SEEDS 49. Selárdalur in the Western fjords - Samúel Jónsson
West Fjords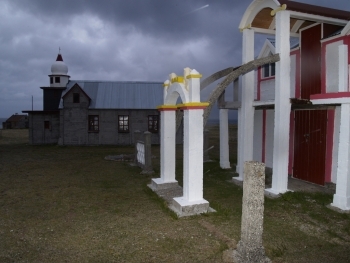 From 04.07.2011 to 17.07.2011
Type:
Festival / Renovation
Number of volunteers: 8
Language: English - high proficiency is not required
Accomodation: Local housing, mattresses on the floor, sleeping bag needed
Participation fee: 140 EUR
Extra: Free time activities, area of extreme beauty
WORK/PROJECT: SEEDS Volunteers will be working for the third year on this particular project at the artworks of Samúel Jónsson, an Icelandic artist, who lived at Selárdalur. We will be working on restoring an old church. We will be working hand in hand with a well know sculpture artist; who has dedicated several years to this project. The restoration work will both be carpentry work, concrete wall building and more light maintenance work inside the church, like oiling the wood, etc. There is a small festival in the area when we are there and we will be assisting in setting up the festival, assisting during the happenings and taking it down.
SEEDS volunteers will continue supporting the project, as the buildings have been rapidly decaying after the artist's death.
ACCOMMODATION: We will be hosted in a local house, in sleeping bag accommodation with mattresses on the floor. Please bring you own sleeping bag.
Food ingredients will be provided and a kitchen will be available, volunteers will share the different duties of cooking and cleaning. Please do not forget some traditional/typical food from your home country for the international evening.
LOCATION: This work camp is on the west side of Arnarfjörður, located in the Icelandic Western Fjords, which are too often missed by visitors due to its distance (real and perceived) from Route 1, the circle road, and from other population centers. The West Fjords are a mass of fjords, mountains and isolated villages on spits of lands surrounded by water and mountains. The area includes its own glacier, the magnificent, remote Hornstrandir and Europe's westernmost point at Látrabjarg, where millions of birds nest, a must for bird watchers. The artist who lived there was not able to really practise his art until he retired from his job and then he began building palaces and sculptures. He started adding to his home and then he built a museum for all his artwork, sculptures as well as paintings with carved frames which he made during the winter. Samúel built a grotesque but charming resemblance to the lion's fountain in the Alhambra-palace in Granada, Spain, and many sculptures showing seals and other animals as well as figures from Icelandic history like Leif the lucky who found America. Icelands most famous hermit Gísli Gíslason lived in this area. He lived alone on a farm named Uppsalir, almost without any communication with other people. He was famous for living in total harmony with nature, not having to use any money or modern facilities such as electricity, machines or vehicles. Now there are plans to make a museum out of his former home. The distance from Reykjavik is about 500 km (7-8 hours drive) by the Whale Bay tunnel; it is perhaps one of Iceland's most remote areas and a very peaceful and beautiful place to enjoy.
LANGUAGE: English will be the official language in the camp; high proficiency is not a requirement.
TERMINAL: Closest International Airport: Keflavík/Reykjavík (KEF).
SEEDS organises the "minibus option", a shared transport from Reykjavík to the camps and vice-versa, which apart from being cheaper and more convenient, allows volunteers to meet fellow campers and have a relaxed trip, while stopping on the way for interesting and tourist sites.
EXTRAS / SPECIAL REMARKS: Participation fee EUR 140,- (Euros).
Place of extreme beautiful natural surroundings with countless opportunities to hike and discover it by foot. SEEDS and/or our hosting partner will organise free time activities in the area for the volunteers. This might include sightseeing, hiking, swimming, etc.
Age: 18+
Find your workcamp
Icelandic Experience
SEEDS main supporters