SEEDS 17. Nature in the far East and a week in Reykjavík
Capital Region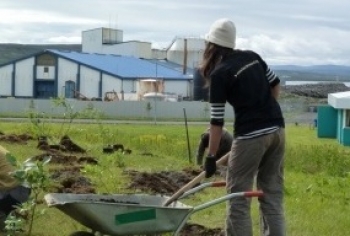 From 19.05.2011 to 02.06.2011
Type:
Renovation / Environmental / Construction
Number of volunteers: 8
Language: English - high proficiency is not required
Accomodation: Bunk beds, shared rooms, sleeping bag needed.
Participation fee: 120 EUR
Extra: Making cheese, ale; bathing in hot pots.
WORK & STUDY/PROJECT: SEEDS Volunteers will be working in the east at a Nature and Heritage centre, working mainly in reforestation and soil erosion prevention; we will assist in preparing vegetable gardens, care for pigs, hens, ducks, a cow and a horse - all being a part of the areas sustainability. We will also build shelter and fences for the animals and clean the coastline.
The second week will combine different tasks within Reykjavík city which ensures daily diversity and various experiences for the volunteers. The activities for us will be focused on keeping Reykjavík and its public areas lively, attractive and charming for locals and visitors. Tasks may involve house painting to cover graffiti tags, tiding up public spaces and face-lifting the city.
Other activities might involve us in one off SEEDS volunteer base. We might be assisting there as well and giving our contribution in the future development of SEEDS volunteering activities.
ACCOMMODATION: We will stay within the reserve and will sleep in bunk beds in shared rooms. In Reykjavík we will sleep in a fully equipped local house in shared rooms. We need to bring our own sleeping bags.
We will receive food and be in charge of the different cooking and cleaning activities. Equipped kitchen and washing machine are available. Please bring some traditional food from your countries for the international evening.
LOCATION: The heritage and nature conservation centre and its reserve are located in a very isolated area in the East of Iceland, far from any urban centre; we should be aware of the location remoteness and its extreme natural beauty and wildlife.
There are no public transportation services to the closest town and entertainment alternatives are in connection with the gorgeous nature; walking and hiking journeys during the free time and the creativity of the group. This project is adequate for volunteers enjoying isolated places with splendid nature and looking for peaceful surroundings as the quietness of the area. The sea and High Mountains, reaching up to 600 meters in height, border the area. You can also discover waterfalls, snowfields and reindeer - all within walking distance of the house.
The reserve is managed as a conservation site for environmental education and sustainable tourism; hosting a number of environmentally important flora and fauna including one of Iceland´s largest colonies of Arctic Tern (Sterna paradisaea), 600m sea cliffs hosting significant numbers of nesting sea birds (including Puffin, Kittiwake and Fulmar) and is home to the elusive arctic fox.
Reykjavík is the capital of Iceland, with a population of over 200,000 including the metropolitan area, so two thirds of Iceland´s inhabitants live here. Reykjavík is a dynamic, modern city which lives in harmony with beautiful nature, using renewable energy sources - geothermal power and glacial rivers. In the area closer than 100 Km from Reykjavík, there are several spectacular waterfalls, geysers, impressive coastline and the well-known geothermal Blue Lagoon spa to visit.
LANGUAGE: English will be the language of the camp; high proficiency is not required.
TERMINAL: Closest international Airport: Keflavík/Reykjavík (KEF). Domestic airport is Egilsstadir (EGS).
SEEDS organises the "minibus option", a shared transport from Reykjavík to the camp and vice-versa, which apart from being cheaper and more convenient, allows volunteers to meet and have a relaxed trip, while stopping on the way for interesting and tourist sites.
EXTRAS: Participation fee EUR 120,- (Euros).
Free time activities will include making cheese and ale, as well as enjoying the many things the exquisite nature offers us.
Tours and excursions will be organised at discount prices, as well as free access to Reykjavík´s seven geothermal pools.
AGE: 16+
Find your workcamp
Icelandic Experience
SEEDS main supporters