SEEDS 01. Bíldudalur & Langibotn. Western Fjords
West Fjords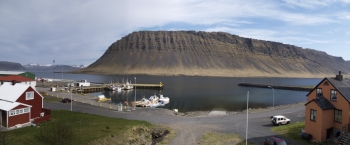 From 24.05.2008 to 07.06.2008
Type:
Environmental / Construction
Number of volunteers: 16
Language: English
Accomodation: In a local house.
Participation fee: 120 EUR
Extra: Excursions in the area as boat trips and hikes will be arrangedfor volunteers.
WORK/PROJECT: Volunteers will be working on few different projects, mainly building and maintaining hiking trails and pathways in the area of Langibotn. Additional tasks may include putting up signs and descriptive information charts for the trails, clearing old oil tanks from the abandoned farm lands in Geirþjófsfjörður and depending on the advance of the jobs, volunteers may start removing a stranded boat and take down its engine to be sent to a museum.
ACCOMMODATION: Volunteers will be hosted in a local house; sleeping on mattresses on the floor; therefore bringing a warm sleeping bag is highly recommended. Food ingredients will be provided and a kitchen will be available, volunteers will share the duties of preparing and cooking meals.
LOCATION: Bíldudalur is a small fishing town, at Arnarfjörður and one of the communities of Vesturbyggð, where the main trades are/were fishing and fish processing. However, during the last years and due to the introduction of the quota system in the Icelandic fishing sector, the town lost its share in the fishing amounts to be caught and this has strongly hit the economy and living situation in the area, which will be one of the issues addressed during the workcamp. In the past years the emphasis on alternative industries has been more visible; similar to other fishing villages in
Iceland. Bíldudalur is a small sea-side village in the southern part of the Icelandic Western fjords, famed for its beautiful landscape and good weather. The summers are often very warm and sunny with gentle breezes, conditions which are hospitable for fishing, swimming, hiking and a variety of other activities.
Langibotn in Geirþjófsfjörður is one of the places where the story of Gísli Súrsson took place, which is one of the most famous Icelandic sagas. Although the saga is only preserved whole in later manuscripts, it was most likely written down in the early 13th century with action occurring between 940-980 A.D. Gisli Sursson's Saga is a classic outlaw saga that is centered on the internal struggles of Gisli, the saga's protagonist, a 10th century settler who ends up outlawed - that is, being declared a person who could be legally killed by anyone finding him - after he avenges the death of his blood brother. Differing from the typical Icelandic Saga, it uses the common theme of vengeance to divide loyalties within with family instead of strengthening familial bonds. From Langibotn, you can walk up to the cliff Einhamar, where Gísli was killed. The vicinity offers a variety of interesting places to explore and hiking and mountain climbing are popular. The sheer beauty of the region attracts people and tourism has started to play an increasing role recently. The distance from Reykjavik is 475 km (7 hours drive) by the Whale Bay tunnel but only 300 km via Stykkisholmur and by the ferry to Brjanslaekur. It is perhaps one of Iceland's most remote areas. Bíldudalur and Langibotn are located in the Icelandic Western Fjords, which are too often missed by visitors due to its distance (real and perceived) from Route 1, the circle road, and from other population centers. The West Fjords are a mass of fjords, mountains and isolated villages on spits of lands surrounded by water and mountains. The area includes its own glacier, the magnificent, remote Hornstrandir and Europe's westernmost point of land at Látrabjarg, there, millions of birds nest in the cliffs making it a must for bird watchers.
LANGUAGE: English will be the official language in the camp, high proficiency is not required.
STUDY THEME: Environmental messenger in the project. S/he will be in charge of delivering ecological and global education messages to both, International volunteers and local hosts. S/he will arrange and organise few activities that intend to raise awareness and to encourage the participants to undertake simple but easy-to-implement actions which will affect the way we use our resources and we deal with the environment and the world we live in.
TERMINAL: Closest International Airport: Keflavík (Reykjavík), KEF. Closest domestic airport and bus. Terminal Ísafjörður (IFJ).
Find your workcamp
Icelandic Experience
SEEDS main supporters