SEEDS 12. Skagafjörður - Renovation of a historical site
North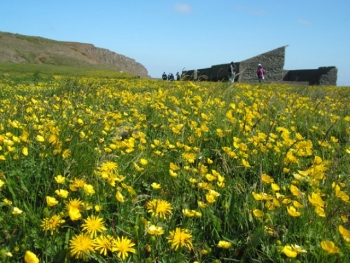 From 27.05.2011 to 10.06.2011
Type:
Renovation / Environmental
Number of volunteers: 8
Language: English - high proficiency is not required
Accomodation: Summer house & huts; sleeping on mattresses on the floor; sleeping bag needed.
Participation fee: 120 EUR
Extra: Access to a local swimming pool and a hot tub; hikes.
WORK/PROJECT: SEEDS volunteers will be working in a great historical site within easy striking distance of Sauðárkrókur. We will be undertaking a few different projects assisting the many visitors that come to this historical site each year. The project will focus on fixing up the camping site before the summer season and making some steps for easier access. We will have the responsibility of maintaining some old walking paths and of making new ones. We will also be putting up and making signs, some lawn mowing and tree trimming.
ACCOMMODATION: We will be hosted in a summer house and small huts, sleeping on mattresses on the floor. Please bring your own sleeping bag. Food ingredients will be provided to us and a kitchen will be available.
The group will be responsible for cooking and cleaning activities and please do not forget some traditional food from your home country for the international evening.
LOCATION: The work camp will take place on the eastern side of Skagafjörður, in a place that was very much the cultural capital of the north from the twelfth until the eighteenth century. This is the place of the country´s first printing press in 1530; the place of education, poets and monks.
This is the home of one of Iceland´s oldest church sites, with the first church built in 1050. The current cathedral was build from red sandstone taken from a mine in the vicinity and ordained in 1763. It is the seventh church in this spot and the second-oldest stone building in Iceland. The red sandstone mine is one of many interesting sites in this location. There are also many interesting hiking options, a historical excavation site, a beautiful forest, awesome history and amazing natural beauty.
Skagafjörður is 40 km long and 30 km wide, the home of two islands Drangey and Málmey. In the east there is a lot of lowland with high reaching mountains in the back. A big valley stretches out from the end of the fjord for about 50 km and then spreads out into narrow valleys far into the highlands. These valleys had the regal Norse name Godvalley (Goðadalir).
Drangey is steep-sided and flat-topped and resembles an arrow pointing north. It was the hideout of Grettir the Strong, the courageous and savage outlaw, and his brother Illugi for three years. Now the island is a bird sanctuary, with a colourful birdlife such as kittiwakes, puffins and guillemots. Boat trips to the island are available, but the steep climb is maybe not for the faint hearted.
In the eastern part of Skagafjörður there is big chain of mountains, Tindastóll (989m), Mælifellishnjúkur (1138) and Glóðafeykir (853m) to name a few. The area is widely vegetated, grassy meadows, fenlands and lowlands, but very little forestation. The climate is mild, with rich birdlife, salmon and trout in lakes and rivers.
To many, Skagafjörður is the most beautiful place in Iceland, with very special colours and light playing on the eye. Definitely a place to visit while in Iceland!
LANGUAGE: English will be the official language in the camp; high proficiency is not a requirement.
TERMINAL: Closest International Airport: Keflavík/Reykjavík (KEF). Domestic Airport: Akureyri (AK).
SEEDS organises the "minibus option", a shared transport from Reykjavík to the camps and vice-versa, which apart from being cheaper and more convenient, allows volunteers to meet fellow campers and have a relaxed trip, while stopping on the way for interesting and tourist sites.
EXTRAS / SPECIAL REMARKS: Participation fee EUR 140.
SEEDS volunteers will have access to a local swimming pool and a hot tub. Spare time activities will be organized for the volunteers by SEEDS and/or the local hosts free of charge. Place of extreme beautiful natural surroundings with countless opportunities to hike and discover it by foot.
Volunteers applying for this project should be motivated to work with people in outdoor activities.
Find your workcamp
Icelandic Experience
SEEDS main supporters