SEEDS 10. Reykjavík: SEEDS Photo Marathon
Capital Region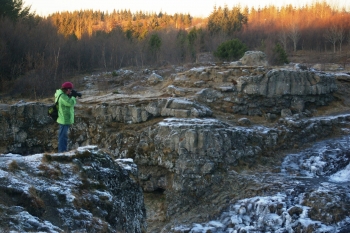 From 22.05.2011 to 04.06.2011
Type:
Renovation / Environmental / Arts
Number of volunteers: 10
Language: English - high proficiency is not required
Accomodation: Equipped house. Bring sleeping bag.
Participation fee: 120 EUR
Extra: Swimming pools, tours at discount fares.
WORK & STUDY/PROJECT: SEEDS volunteers in this project will be part of the 11th SEEDS photo marathon in the Icelandic capital! Last years' experiences were very successful and we would like to organise this project in the spring! One of our objectives is to deliver messages and draw the attention to the local population through pictures and photos made during the camp!
SEEDS coordinators (among them a professional international photographer) will have prepared few different topics on which the participants will base their entries to the competition; those topics will be mainly related to the work of SEEDS: Environment and intercultural understanding.
Participants need to take their own digital cameras and its main work will be done walking or cycling all around the city and taking photographs on the issues given; the best pictures will be selected for a final exhibit. The last part of the project will be putting up the exhibition at one of the most visited galleries and venue for exhibits in the country!
Volunteers shall be prepared for walking/cycling, flexible time schedule (early morning photo sessions, night photographing). A session in the surroundings of Reykjavík will be organised as well.
Volunteers' additional work with the city of Reykjavík; will be focused on trying to keep the city and its public areas lively, attractive, interesting and charming for locals and guests. Tasks may involve painting to cover graffiti tags, tiding up public spaces and face-lifting the city after the winter.
Addtional work may be done at the new SEEDS volunteers' base, which will be opened this year. Volunteers will be assisting and giving contributions to the future development of SEEDS volunteering activities. This project combines different tasks in Reykjavík and its surroundings ensuring diversity and various experiences for participating volunteers.
ACCOMMODATION: SEEDS volunteers will stay in a fully equipped house in Reykjavík; sleeping in shared rooms. Please bring your own sleeping bag. Volunteers will receive food and be in charge of the cooking and cleaning activities. Equipped kitchen and washing machine are available.
LOCATION: Reykjavík is the capital of Iceland, often called "the nightlife capital of the north". But there is more to Reykjavík than pubs and clubs. Reykjavík also gathers the most interesting of Icelandic culture. It is an incubator of new ideas and styles which often indicates new global trends. It is an International city with a lively Cosmopolitan cultural scene.
The world's northernmost capital bridges the Atlantic, between Europe and North America. Reykjavík is spread across a peninsula with a panoramic view of the mountains and the Atlantic Ocean on almost all sides.
The population of the city is over 200,000 including the metropolitan area, so two thirds of Iceland's inhabitants live here. Reykjavík is a dynamic, modern city which lives in harmony with beautiful nature, using renewable energy sources - geothermal power and glacial rivers.
March is the last month when you can see, with a piece of good luck, the Northern lights (Aurora Borealis) in Iceland. In the area closer than 100 Km from Reykjavík, there are several spectacular waterfalls, geysers, impressive coastline and the well-known geothermal Blue Lagoon spa to visit.
Iceland was badly hit with the current financial crisis, which did affect the life for foreign visitors in a positive way, making Iceland a much cheaper country to visit, the local currency greatly lost value – many goods and services cost (in EUR) just a half comparing to the year 2007.
LANGUAGE: English will be the language of the camp; high proficiency is not required.
TERMINAL: International Airport: Keflavík/Reykjavík (KEF). Bus station: Central Reykjavík (BSÍ).
EXTRAS / SPECIAL REMARKS: Participation fee EUR 120. SEEDS will provide volunteers with passes to access free of charge the city's seven geothermal swimming pools and thermal-water beach. Tours and excursions will be arranged for SEEDS volunteers at discount fares.
AGE: 16+
Find your workcamp
Icelandic Experience
SEEDS main supporters