SEEDS 01. Reykjavík: Design - Renovation & Environment
Capital Region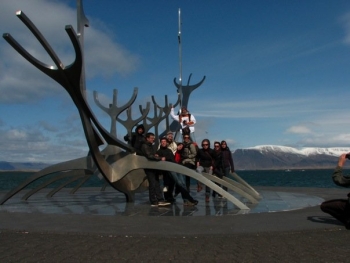 From 16.03.2011 to 30.03.2011
Type:
Renovation / Environmental / Arts
Number of volunteers: 8
Language: English - high proficiency is not required
Accomodation: Fully equipped house in Reykjavík, in own sleeping bags.
Participation fee: 100 EUR
Extra: Tickets to the swimming pools. Tours and excursions at discount fares.
WORK / PROJECT: This particular project will combine different tasks within Reykjavík city with different partners, which ensures diverse daily tasks and various experiences at once for SEEDS volunteers.
The house where we will stay is run as a volunteer base and most of the maintenance and renovation is in the hands of volunteers. It is surrounded by a large garden and woodland area which needs to be taken care of. Tasks might include mowing the grass, collecting dead plants and scrubs, preparing the vegetable garden for seeding and other general gardening work. The house itself also needs some maintenance: Scraping up old paint from the window frames, sandpaper them and paint them again and fixing the fence in front of the house is among the tasks for us.
The project also includes supporting the DesignMarch 2011; which takes place on the weekend of March 24th -27th; there volunteers will assist in various tasks connected to the events.
DesignMarch is a four day feast for designers, artists, those with an interest in design, the general public and tourists alike. The first two DesignMarch programmes 2009 and 2010, were splendid and diverse, with events reflecting a wide range of design; for details for the events 2011 click here.
We might also assist in the city to keep the public areas lively, attractive, interesting and charming for both the locals and the guests of the city and participate in local events and happenings.
ACCOMMODATION: SEEDS volunteers will stay in a fully equipped house in Reykjavík; sleeping in shared rooms. Please bring your own sleeping bag.
Volunteers will receive food and be in charge of the different cooking and cleaning activities. Equipped kitchen and washing machine are available. Do not forget some traditional/typical food from your home country for the international evening.
LOCATION: Reykjavík is the capital of Iceland, often called the "nightlife capital of the North". But there is more to Reykjavík than pubs and clubs. Reykjavík also gathers the most interesting of Icelandic culture. It is an incubator of new ideas and styles which often indicates new global trends. It is an International city with a lively Cosmopolitan cultural scene.
The world's northernmost capital bridges the Atlantic, between Europe and North America. Reykjavík is spread across a peninsula with a panoramic view of the mountains and the Atlantic Ocean on almost all sides.
The population of the city is over 200,000 including the metropolitan area, so two thirds of Iceland's inhabitants live here. Reykjavík is a dynamic, modern city which lives in harmony with beautiful nature, using renewable energy sources - geothermal power and glacial rivers.
March is the last month when you can see, with a piece of good luck, the Northern lights (Aurora Borealis) in Iceland. In the area closer than 100 Km from Reykjavík, there are several spectacular waterfalls, geysers, impressive coastline and the well-known geothermal Blue Lagoon spa to visit.
Iceland was badly hit with the current financial crisis, which did affect the life for foreign visitors in a positive way, making Iceland a much cheaper country to visit, the local currency greatly lost value; many goods and services cost (in EUR) just a half comparing to the year 2007.
LANGUAGE: English will be the language of the camp; high proficiency is not required.
TERMINAL: Closest international Airport: Keflavík/Reykjavík (KEF). Closest bus station: Central Reykjavík bus station (BSÍ).
EXTRAS / SPECIAL REMARKS: Participation fee EUR 100. SEEDS will provide volunteers with passes to access free of charge the city's seven geothermal swimming pools and thermal-water beach.
Tours and excursions will be arranged for SEEDS volunteers at discount fares.
AGE: 16+
Find your workcamp
Icelandic Experience
SEEDS main supporters