SEEDS 29. Langanes Peninsula - The home of the midnight sun!
East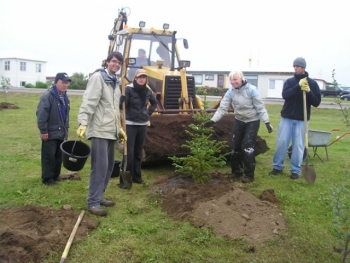 From 16.06.2010 to 30.06.2010
Number of volunteers: 8
Language: English - high proficiency is not required
Accomodation: In a local house, sleeping on mattresses on the floor in own sleeping bag.
Participation fee: 80 EUR
Extra: Bird-watching, hiking opportunities, horse-back riding, angling, pedal boats or swimming pool.
WORK/PROJECT: SEEDS volunteers will be mostly working on a large reforestation project in the North-east of Iceland, at the Langanes peninsula; the forest project will take place during the next 3 years and aims at planting 10000 new trees.

Additional work is related to cleaning up the coast line, as one of the biggest pollution issues in the area is the litter brought to the shore due to sea currents that even bring timber as far as from Siberia; the driftwood is usually used by local farmers and artists in different ways.

Volunteers will have the opportunity to join and take part in the work on the farm as well.

SEEDS volunteers have been working in the district since 2006, this will be our fifth year in a row there. Additional tasks may include taking down old fences in deserted farms in the area.

ACCOMMODATION: Volunteers will be lodged in a local house at Ytra Lón, sleeping on mattresses on the floor. Bringing a warm sleeping bag is needed. Volunteers will have a kitchen to cater themselves. Food will be provided and meals will be then prepared/cooked by volunteers.

Ytra Lón is partly a sheep farm and during the summer months becomes a hostel for visitors.

LOCATION: Shaped like a goose with a very large head, the Langanes peninsula is one of the most isolated corners in the north-east of Iceland. Most of Langanes is rich in marshland as well as arctic and alpine flora. The moors at the base of Langanes form a tundra plain of lakes, marshes and low hills. The Langanes peninsula is the last word in Icelandic remoteness and it narrows like a spear point toward northeast and its fowling cliffs have been and still are a means of sustenance for those, who live there. Nowadays, the area is very sparsely populated. Most farms have been abandoned during the last few decades. Some of the remaining farmers tend the breeding colonies of the eiders and collect their down, clean it and sell at high prices.

In summer there are few places that offer such spectacular views of the midnight sun as Langanes, the accommodation place is located about 30 km below the arctic circle.

Nature lovers spend days on end at the densely populated bird cliffs watching gannets, puffins, guillemots, brunnich's guillemots, black guillemots, razorbills, kittiwakes, fulmars etc. One of the best places for the observation of the gannets is Cliff Storikarl off the bird cliff Skoruvikurbjarg. Other bird species colonise different parts of the peninsula, such as the arctic terns near the farm Ytra-Lon.

Ytra Lón is located 14 km away from Þórshöfn, the largest village in the area, a compact, busy little town at the Þistilfjörður. The entire district (including farms and the village of Bakkafjörður) has 480 Inhabitants (2008) and they base their livelihood on fishing, fish processing and commerce serving the surrounding rural farming area. Around 400 people live in the village itself and the distance from the capital is 630 Km by the Whale Bay tunnel.

LANGUAGE: English will be the language in the camp, but high proficiency is not a requirement.

TERMINAL: Closest International Airports: Keflavík /Reykjavík (KEF) and Akureyri (AEY); nearest domestic airport is Þórshöfn (THO), while the closest bus stop is in town. SEEDS organises the "minibus option", a shared transport from Reykjavík to the camps and vice-versa, which apart from being cheaper and more convenient, allows volunteers to meet fellow campers and have a relaxed trip, while stopping on the way for interesting and tourist sites.

SPECIAL REMARKS / EXTRAS: Participation fee EUR 80,- (Euros).

Volunteers will work and live in one of the best locations in Iceland for bird-watching. Our local hosts will organise free time activities and there are plenty of hiking opportunities in the area.

Within the farm volunteers can try horse-back riding, angling, pedal boats or enjoy the hot tub after a hard working day.

AGE: 16+
Find your workcamp
Icelandic Experience
SEEDS main supporters