SEEDS 070. Environmentally Aware & Trash Hunting
Capital Region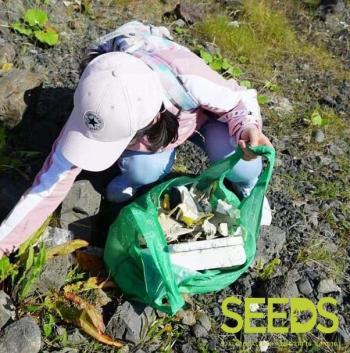 From 27.07.2020 to 04.08.2020
Type:
Environmental / Education
Number of volunteers: 12
Language: English will be the language in the camp; intermediate conversational skills are needed.
Accomodation: SEEDS participants will stay in a house in Reykjavík. The facilities are basic with a shower, washing machine, kitchen and everyone is expected to show consideration for their companions. We will sleep in shared rooms in a sleeping bag accommodation. Please bring your own sleeping bag.
Participation fee: 350 EUR
Extra: Participation fee EUR 350 (Euros). Please note that the fee can either be transferred in advance via bank transfer, or paid for on arrival. The fee includes transportation from the meeting point to the camp (on the first day), the visits available and one trip combined with the trash collection activity.
PROJECT: The Environmentally Aware & Trash Hunting project is part of a series of camps organised by SEEDS in cooperation with different partners. SEEDS works with The Blue Army, an organisation dedicated to the cause of coast cleaning; Sea Shepherd Iceland, an organisation dedicated to defend, conserve and protect the oceans; with Whales of Iceland, an exhibition of life size models of whales and porpoises aiming at educating about their lives and human impact on their existence, and SORPA the organisation in charge of waste collection & management in the Reykjavik area.
This camp allows participants to learn about global and local environmental issues, through non-formal activities such as participation in discussion groups, workshops and presentations; as well as to contribute directly to environment protection by joining coastal, urban or green-spaces clean-up efforts.
These clean-up efforts may be arranged in partnership with the above mentioned organisations or organised solely by SEEDS. We aim to also involve the local community, so some of our events may be open to the public. We hope participants will also learn how to plan and do their own trash-hunt projects back home. This project is based on similar activities around the world, where outstanding results have been made with volunteers. As a hands-on volunteering activity day, included also in this camp is one of the below options:
A day trip combining a guided tour to the Hellisheiði Power Station, a trash hunt in the Blue Mountains area; and the Hot River hike, a hike up a valley filled with hot springs where one can bathe, or

A day trip to the Reykjanes peninsula, combined with a coastal trash hunt in the area.
We will try to visit the waste collection centre of SORPA, where a tour of the facilities and a lecture regarding waste management in Reykjavik will be provided. Some of the activities are dependent on conditions such as weather, human resources available, as well as availability from our partner organisations.
This camp combines learning, sharing, hands-on work and having fun. No previous experience is needed. Participants should prepare and share about environmental issues from their countries and should be ready to spend time outdoors walking medium distances during the clean-ups, as during other activities and sightseeing.
As part of the project is happening outdoors, volunteers shall be ready to adapt and be flexible with the working and free-time schedule, as depending on the w
Find your workcamp
Icelandic Experience
SEEDS main supporters