SEEDS 079. Environment & Photography in the Hot Spring Capital
South West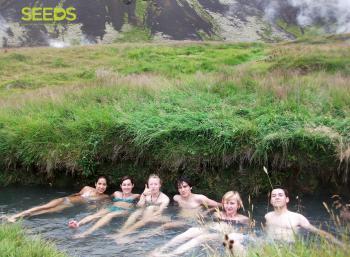 From 06.07.2019 to 14.07.2019
Type:
Environmental / Arts / Cultural
Number of volunteers: 8
Language: English
Accomodation: SEEDS volunteers will stay in a small local house. The facilities are basic with a shower, kitchen, bathroom. Please bring your own sleeping bag.
Participation fee: 350 EUR
Extra: Participation fee EUR 350 (Euros). The fee includes transportation from the meeting point to the camp on the first and last day, as a visit to a Geothermal Power plant. Participants will do the Hot River Hike.
Age: 18+
PROJECT: During this camp participants can share their concern for environmental issues and develop photography skills. If you are interested in topics such as: climate change, waste management, animal protection, sustainable solutions and you also love taking photographs, then this project is for you!
We will focus on different environmental issues through a selection of workshops, discussions and educational visits facilitated by SEEDS. One of our aims is to help create more environmentally aware consumers & travellers!
You will have time to put theory into practice and explore the surroundings of the town of Hveragerði. We may visit local projects focused on environment, which can include hands-on volunteering activities or guided visits. Some examples include cleaning actions, a visit to a geothermal power plant or a recycling centre, or a local exhibition. These, however, are dependent on the availability of our partners and the weather conditions.
No previous experience is necessary. Participants should be ready for spending time outside, walking in the surroundings for the cleanup, as well as for photography activities and sightseeing. As part of the project is happening outdoors, volunteers shall be ready to adapt and be flexible with the work and free-time schedule, as depending on the changeable weather, we may not be able to perform some of the tasks or activities planned. Participants should bring their own digital cameras, lenses (and laptops if possible).
This is a learning/sharing camp and not a standard workcamp. Everybody is expected to contribute their own knowledge and experience. Participants should also take advantage of the opportunity to share about their own culture or country, such as food, music, games or films with the international group.
SEEDS programme combines learning, sharing, getting to know Iceland, its culture, having fun, as exploring the town and some stunning nature attractions in the surroundings or other visits part of the camp.
ACCOMMODATION: SEEDS volunteers will be staying in a small local house with access to kitchen, bathroom and shower. The facilities are basic and everyone is expected to show consideration for their companions.
The group will sleep in shared rooms (on mattresses on the floor or bunk beds) and everyone shall bring their own sleeping bags. We will receive food supplies and be in charge of cooking and cleaning. Do not forget some traditional/typical food, drinks, recipes, music, games or movies from your country for the international evening.
LOCATION: Hveragerði is a South-Iceland town renowned for greenhouse gardening and its geothermal springs. It is located 45 km from Reykjavik, and may be seen from the vantage point of the Kambar mountain slope, as it spreads out across a 5,000 year-old lava field. Pillars of steam from the numerous hot springs in the town may be seen rising up out of the ground. In summer the town is a green community, abounding in trees.
A green revolution is taking place as areas of woodland expand in and around Hveragerði, with the locals working together in order to further develop their blossoming town. The surroundings are a paradise for outdoor activities. To the north of town is one of the country's largest geothermal areas, Hengill, where plumes of steam can be seen from far. Hiking trails stretch from town through Ölfusdalur valley, into the Hengill volcanic area, all the way to Nesjavellir and Þingvellir National Park. Along the way are warm springs where bathing is possible.
LANGUAGE: English will be the language in the camp; basic conversational skills are needed.
TERMINAL: Closest international Airport: Keflavík/Reykjavík (KEF). Bus station: Central Reykjavík (BSÍ).
Departure is at 10:00 am in the morning of July 6 from SEEDS office in Reykjavik. Participants that cannot arrive on time (later or delayed flights) will be sent information on how to reach the camp on their own.
EXTRAS / SPECIAL REMARKS: Participation fee EUR 350 (Euros) which can either be transferred in advance via bank transfer, or paid for on arrival. The fee includes transportation from the meeting point to the camp on the first and last day, as a visit to a Geothermal Power plant.
Participants will do the Hot River Hike, a hike up Reykjadalur valley, which is filled with hot springs and there is a hot river in which one can bathe. There are also innumerable walking trails in the area to explore in the free time.
Other excursions (eg. Golden Circle, South shore, Reykjanes and/or Snæfellsnes Peninsula) can be arranged at discount fares, in case there is additional free time after the workshops and camp's sessions.
Weather may be cold or rainy, so we recommend to bring warm and/or waterproof clothes and underlayers.
Find your workcamp
Icelandic Experience
SEEDS main supporters