SEEDS 11. Fiskidagurinn Mikli í Dalvíkurbyggð - Fish Festival
Highlands / Interior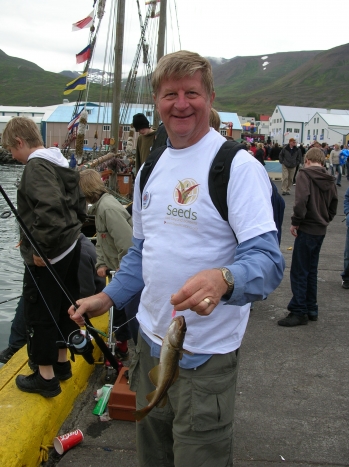 From 02.08.2007 to 16.08.2007
Type:
Festival / Environmental
Number of volunteers: 12
Language: English
Accomodation: Local community house
Participation fee: 130 EUR
Extra: Free entrance to the local swimming pool, excursions and free time activities will be arranged by the local contacts.
WORK/PROJECT: Our hosting community, Dalvík organizes once a year the "Great fish day", a big scale voluntary project where most members of the community dedicate their time to the festival and to host the thousands of guests coming from all the corners of Iceland and abroad. Everyone is invited to eat a wide variety of sea food dishes and everything is free of charge. The Great Fish Day has been a very successful event and during the first five years, more than 90.000 guests have taken part in this fabulous village feast.
Volunteers will work before, during and after the festival, helping in the many different activities related to the preparation and execution of the festival as re-arranging all again once it finishes. Volunteers are also asked to bring with them typical recipes from their countries involving fish as the main ingredient. Hopefully we will be able to set also an International food stand as we did last year, where visitors will have the chance to taste different non-Icelandic dishes.
ACCOMMODATION: We will be hosted at a local community house. Volunteers are expected to cook their own meals and free access to the newly opened local swimming pool will be arranged. We will sleep on mattresses on the floor and a warm sleeping bag is highly recommended.
LOCATION: The community of Dalvíkurbyggð was formed in 1998 by the merger of three districts of outer Eyjafjörður: the town of Dalvík and the rural districts of Svarfaðardalur and Árskógur. The logo of Dalvík shows three mountains, signifying the joining of the three communities.
The population of Dalvík is about 2000. The local economy is based upon the fisheries and fish processing, in addition to various industrial and food enterprises, services, commerce and trade. Dalvík harbour is a large fishing and commercial port; the ferry Sæfar, which sails from Dalvík, serves the island of Grímsey, Iceland's northenmost community, which lies on the Arctic Circle.
The environment is beautiful and the mountains are spectacular. There are many interesting things to observe such as Hvoll folk museum where one can see Jóhann Svarfdælingur, once believed to be the tallest men on earth, 2,34 meters high. There are many others possibilities for recreation such as canoeing, whale watching, angling and horse riding. The swimming pool of Dalvík is also a friendly place, with a pool, hot tubs, steam bath and water slid just waiting for you to come and relax after a busy day.
The mountains of Tröllaskagi ("Trolls' Headland" – between Eyjafjörður and Skagafjörður) are renowned as one of Iceland's most spectacular areas for outdoor activity. Hikers can find suitable walking routes at any time of year, while mountaineers can scale peaks of all shapes and sizes.
During the Great Fish festival, on the longest barbecue in Iceland, grilled fish burgers are served with bread and sauce. The barbecue is really an assembly line 10 meters long. A total of 12 grill stations are located at sight where one can try grilled fish such as haddock, cod, salmon, redfish, salt cod and cat fish marinates in different ingredients. All these come with bread and beverages.
STUDY THEME: Environmental messenger in the project. S/he will be in charge of delivering ecological and global education messages to both, International volunteers and local hosts through organised activities. We intend to raise awareness and to encourage the participants to undertake simple but easy-to-implement actions which will affect the way we deal with the environment and the world we live in.
TERMINAL: Closest International Airports: Keflavík (Reykjavík), KEF and Akureyri -AEY- (connected just by www.icelandexpress.com from Kastrup in Copenhagen, Denmark) nearest domestic airport is Akureyri (AEY), while the closest bus stop is in town.
Find your workcamp
Icelandic Experience
SEEDS main supporters