Helping with Iceland's Shoe Project
05.07.2023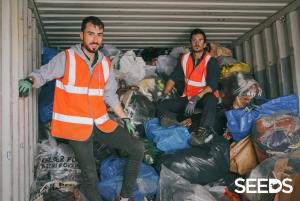 "These boots were made for walking" or ... be given a new life!

Ever wondered what happens to the shoes you donate in the containers?
In Iceland, there's the Shoe Project, originally started by Steinar Waage who was a shoe salesman in Reykjavík and a supporter of the mission.
The shoes get sorted, then fixed, and finally shipped to many parts of the world, namely Africa.

Our long-term volunteers spent the morning moving tons of shoes to a bigger container, feeling like they were playing Lego, trying to pile up every shoe in the most efficient way!

Many treasures were found, their muscles were put to work carrying the big bags and they even got to meet some locals.
Find your workcamp
Icelandic Experience
SEEDS main supporters