SEEDS 077. Rey Cup - Football Festival for kids
03.08.2014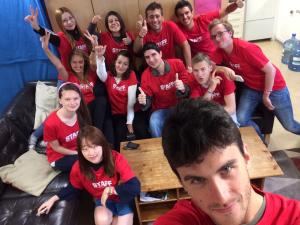 What a big and nice group we were in this workcamp! The volunteers where from all around the word and we had a really good time all together. The "Bed guys" worked hard, cleaning floors and football fields, cutting grass, working for security at kids' parties… and we also showed our cold blood and stunning abilities in refereeing(hem, hem…): PENALTY!
We had some hard time coordinating all the different tasks we were assigned to during the Rey Cup, the football festival for children from Iceland and abroad, but at the end we were proud of our work and the host showed his appreciation for our efforts (yes, that lamb was perfect!).
During the free time we laid in the hot tubs of the swimming pool or hang out in the centre. During the free days the volunteers did a lot of trips: South Shore, Golden Circle, Blue Lagoon, Snæfellsnes, Hot river hike..
What else should I say? Not much, since this was for sure one the best workcamps that I had! Thanks to all of you guys for this nice and enriching experience all together. Bruno, Jaime, Madis, Dominika, Claire, Nicolas, Josep, Anne, Valeryia, Ketty, Maria Camila, hope to see you again one day!
Find your workcamp
Icelandic Experience
SEEDS main supporters