SEEDS 036. Djúpavík - Where the northern road ends!
05.06.2014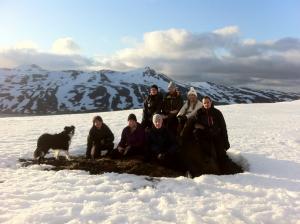 In a magical place, settled in the well-known yet little populated area of the West fjords, both history and nature are intertwined, flooded by an enormous quietness which just might be broken up by the rev of a lonely car, or the pure sound of the wind.
It is not just the possibile to see seals, whales and dolphins, waterfalls and sharp mountains (which lead up to landscapes reminiscent of 'Lord of the Rings') that makes it charming, but also the idea of our hosts to create a cultural place with concerts, artistic shows and picture exhibitions, using great initiative in finding new functions for the area´s abandoned fish factory.
It has been a pleasure to work with Eva and her husband to enhance this fantastic project that they have been carrying out for many years.
Regarding the workcamp, our main tasks have been to clean up the seashore, helping out with the garden, maintaining and cleaning hiking paths and doing some preparation and cleaning work in the abandoned fish factory. We could say that the weather has behaved, letting us enjoy the rest of the trips and free days with activities in the surroundings like kayaking, hiking and bathing in a geothermal swimming pool.
Also it has been great to meet a former Seeds leader there, Luke; with whom we have shared very enjoyable moments. We hope that Celine, Felix and Sandra, together with our Seeds members (Danny, Maria and Diego) have had an unforgettable time in this work camp in this fantastic spot in the nature itself, uncommon to find nowadays in modern society.
Diego Gomez Aragon, SEEDS Workcamp Leader
Find your workcamp
Icelandic Experience
SEEDS main supporters