SEEDS 027. The island of Viðey
03.06.2013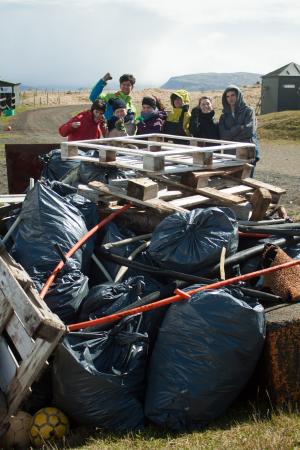 What could be more awful than going to another country to explore and travel, but being trapped on an island where seemingly nothing happens? Eight people all around the world right now could answer you: anything else can be more terrible than that. Let me explain.
We came all together for a work camp on Viðey island, a small block of ground washed from all sides with Reykjavík bay waters. It's located five minute ferry drive from the new port of the city. The most remarkable things going on in Viðey are: Yoko Ono visiting the Imagine Peace Tower every year, sometimes more than once; SEEDS volunteers working on island twice a year; Geocaching spot hidden in the middle of nowhere with some very important artefacts in it; a flock of geese visiting every morning and "soiling" the grass in front of the port; amazing waffles being cooked in the very oldest house of Iceland (or so they say); old school house and living housing's ruins from the beginning of 20th century with sensible feeling of history.
So you see, already very important life is being led in the island of Viðey, but you add eight willing and fun, creative and energised, youthful and kind volunteers and you have a perfect holiday ready. We spent our days cleaning 8km perimeter of beaches, preparing gardens and planting potatoes and other organic vegetables, fixing bikes and cleaning the church and school. The working part could be repetitive, but we found joy in rainy days, fun in silent afternoons, amazing cooking skills where there were none, childish happiness in adulthood and healthy dose of sarcasm in whale watching, where the mighty animals graced us with only a distant glimpse of a back fin.
I don't have a best work camp, all of them are different in places, people and atmosphere. But, to be very honest, with the Viðey group the time spent was most fun and I felt closely connected with them. We decided to go back in ten years to Viðey, exactly on 23rd of March, when the summer in Iceland starts, to remind endless summery youth and sparkling feeling of inside.
Thank you so much: Lilas: for being so awkwardly amazing and for trusting me, James: for tolerating our questions, opinions and seagull-ing, and for teaching me things, Lisa: for being just perfectly "shniteeeeee!", Yasmina: for being not funny and such a sweet girl-doctor to be, Daniel: for your perfectionism in cooking and master of yatzy, Clarisse: for all the things you did here and in your summer camp and Jónas: for your Icelandic humour and non-Icelandic organisation skills and Hose: for just being there. Luca, you don't get any thanks, no one likes you any way. (;
We're all over the world now, but I felt belonging with you all. Remember, remember the 23rd of April.
Madara Liepina
SEEDS workcamp leader
Find your workcamp
Icelandic Experience
SEEDS main supporters