EVS leaving their second home...
01.12.2006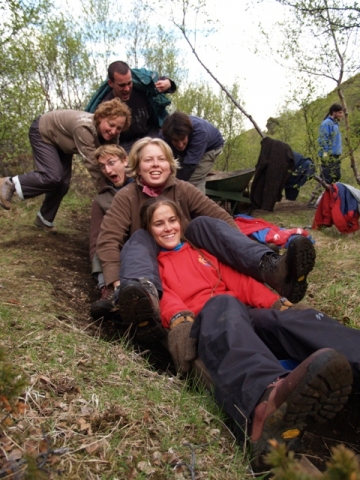 It is already December... It has been 7 months since they arrived to this island in the Middle of the North Atlantic... The time for all of them to head back home arrived today...
They, our first flock of EVS volunteers ever, left.... They all came from different corners, from Spain to Slovakia, France to the Czech Republic and Poland! As some of them said: "...we found a family here and spent 7 unforgettable months of our lifes..." Same here, we made a great experience with all of you, we learned so much from all of you, we had such beautiful moments here and around the country, so many days and nights together, in the camps, in Grenimelur, exploring Iceland, funny memories and moments that we will always remember and will make us smile when thinking about them :)
Alena, Beatriz, Ivana, Adam, Javier and Romain: Many thanks for dedicating part of your lifes to SEEDS and this project, without you this summer would not have been as great as it was!! We hope we will meet you soon again, perhaps next summer? We will see, but for sure, your family in Iceland will miss you a lot and would be very glad seeing you back here in the future!
All the best for your future, good luck with your plans and dreams, with your studies, jobs, getting back home and re-adapting! Good luck and please keep up the good energy and motivation that took sky high our summer and the summer of hundreds of other International volunteers! We stay here with Agatá and Jérémie, we are glad they stay longer with us, but we all (including them) are sad you left.. We miss you....
Takk fyrir okkur, við sjáumst !!!
Find your workcamp
Icelandic Experience
SEEDS main supporters