SEEDS 38. Remote Fjords - where the Road Ends!
12.06.2011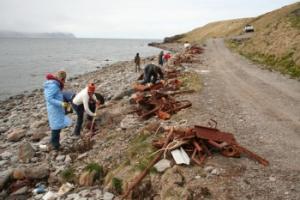 Twelve Days in the Life of a First Time Work-Camp Leader
When I applied to become a work-camp leader I did not really understand what a work-camp was. Although volunteering is common in the UK, these kinds of work exchanges are not called "work-camps." It does not seem an apt label. A friend joked that it sounded similar to "labour camp," something akin to Aleksandr Solzhenitsyn's novel A day in the Life of Ivan Denisovich. This novel depicts one day of a Ivan Denisovich Shukhov in a Soviet gulag camp, following him as he works on a construction site in the extreme Siberian cold scavenging food, which has become the only pleasure left in his life. Thankfully, SEEDS initiate work-camps to promote cultural understanding amongst volunteers through conservation and environmental activities. Excited by this definition from SEEDS, I ignored my friend's joke.
On the 30th of May I travelled with four volunteers to Norðurfjörður. This was my first visit to the Westfjords and my first time participating in a work-camp - let alone leading one. I admit I was nervous, but I had confidence in myself and in my training. I was not, however, prepared for the imposing beauty of the West fjords. Snaking our way around each fjord, to the right was the white- tipped grey expanse of the Greenland sea; and to the left, sheer rock faces: the harsh features sculpted by glaciers over thousands of years.
The mini-van stopped at the abandoned herring salting factory in Djúpavík, a casualty of a temporal economic boom based on an unpredictable fishing stock. I felt it's cavernous water storage tanks were a good place as any to get to know my volunteers. Stephanie is from Normandy but lives in Paris. She has been to Iceland twice before, but this is the first time travelling without her boyfriend. Kris, lives in the mountains of Colorado, USA he brought a foldaway bicycle and amazingly is a former employee of NASA. Josephine is from Lucerne, Switzerland and will study fine art at university this September. Tara Ah-hyun Nam has been working in Washington to gain experience after studying hotel management at university. Iceland is one destination on her Nordic adventure, as she makes her way home to South Korea. Jiyeon Bae, also from Korea, has been studying in Brighton for two years and intends to visit Paris before she returns to England for the start of the University term.
Having driven to the end of the road, we devoted ourselves, to collecting Eidur down from a small island and helping around out host's farms. In this remote location, with very little free time activities, occasionally my volunteers looked to me for inspiration. Finding it difficult to pry them away from the ever-reliable Internet, I suggested going for a hike around the fjord. During a short rest on the beach I started to build a small shelter from driftwood (coincidentally drifting over from Siberia) - partly for something to do and partly to keep warm. Slowly others joined in or began their own creative projects over the next hour. As we crawled inside our feeble shelter I felt the warmth.
The group dynamic would continue to develop, despite being separated while working on the two different farms. Both groups were eager to return home to tell the tales of the day. Our conversation was dominated by food, specifically the traditional Icelandic meals our hosts had prepared for us. It became a competition amongst the volunteers who could eat the most unusual dish. Soon, however, the roles were reversed. Each of the volunteers prepared a dish from their respective countries. Our Icelandic hosts gratefully guzzled Stephanie's Cabernet Sauvignon, smiled with glee when presented with Josephine's fondue; this reverting to a nervous grin as Kris brought out his spicy chilli and the Koreans their rice. I ended the evening with a humble apple crumble and bread and butter pudding.
I had learnt a lot during these twelve days. Being the leader can be tiring and stressful but primarily it is fun and rewarding. Our hosts were incredibly kind and were always concerned about our well being. They had shared their food with us and it had become our common pleasure. I will remember how we, as a group, described this pleasure in fine detail, mirroring Solzhenitsyn's descriptions of food, albeit in vastly differing circumstances. I was still unsure about the label "work camp." Would volunteering holiday or excursion be more appropriate? I still have an entire summer to find out.
Andrew KELLOE (SEEDS workcamp leader)
Find your workcamp
Icelandic Experience
SEEDS main supporters