SEEDS 54. Stepping back in time
12.08.2011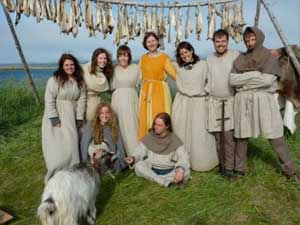 Today, the 12th of August, the Medieval Festival in Eyrarbakki will start.
In this location a group of twelve volunteers from Hong Kong, Belarus, Hungary, France, Austria, Spain and Belgium will help in all the events that will take place.
The festival will last for the next three days and it is expected that more than 3000 people will come to have fun and discover how Iceland was like some centuries ago. During these three days, the public will enjoy among other things an old car parade, a taste of traditional Icelandic meat soup, fireworks and concerts for all ages and interests.
The volunteers arrived in Eyrarbakki ten days ago and since then they have been working for the community doing jobs like cutting grass, painting houses and Regina´s Gallery, fixing fences and cleaning the Café. During the festival they will be helping in the fish restaurant, in the Café and in Regina´s Gallery. If you want to see all of them together, wearing the typical Icelandic costume, you should come on Sunday 14th, when they will show the medieval Icelandic dances that they have created. It will be worth seeing!
But don´t think that everything has been just work during this workcamp. The volunteers had had the opportunity to enjoy a trip to the Golden Circle, a peaceful afternoon in the Blue Lagoon, a barbecue and a pancake party, a funny afternoon in the swimming pool of Selfoss and several hikes around Eyrarbakki with so many things to be discovered.
Remember, between the 12th and the 14th of August, Stepping back in time in Eyrarbakki!
Alba GONZALEZ (SEEDS workcamp leader)
Find your workcamp
Icelandic Experience
SEEDS main supporters