Volcanic Eruption Update - Grimsvötn
23.05.2011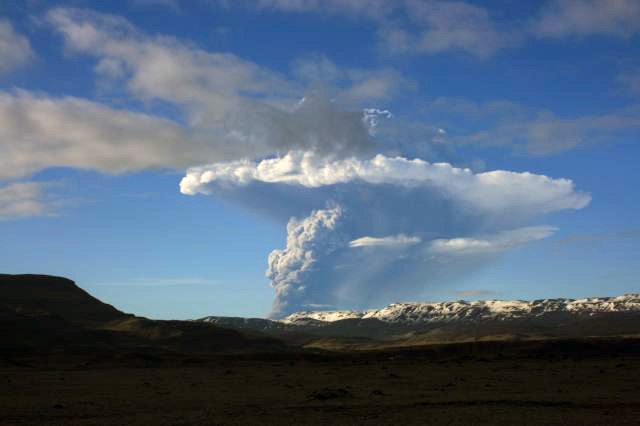 As you may have heard the Grímsvötn volcano in Iceland is erupting!
Yes, there is again an on-going volcanic eruption, this time under the glacier in the south-east of the country. The eruption site is about 250 Km from Reykjavik and scientists believe the eruption may end in few days or weeks as eruptions from Grímsvötn usually last for not very long. SEEDS would like to provide you with more information and details on the situation:

SEEDS VOLUNTEERS ARE SAFE & SOUND
SEEDS Volunteers currently in Iceland are safe and sound, SEEDS and the appropriate parties are making every effort to make their stay as pleasant and comfortable as possible. All volunteers stranded in Reykjavik due to the flight restrictions have been offered a complimentary stay at SEEDS accommodation while their flights are on hold. SEEDS has no plans to cancel any projects. All SEEDS volunteers currently working are involved in projects away from the affected area. If project sites are affected by volcanic activity, they will be moved to alternative work sites elsewhere in the country. Sending organisations and volunteers will be contacted directly if changes are planned.

BUSINESS AS USUAL
The Icelandic civil protection authorities have the situation in terms of peoples' safety fully under control. Nobody is in danger and no persons have been harmed. At the moment the eruption does not represent any risk to health and safety of people. Day to day business in Iceland has not been affected apart from the directly affected area in the south-east. In other parts of the country daily life is proceeding normally. Day-to-day life in most of Iceland is just as usual, even though the eruption has made a profound impact in a specified area. The International airport in Keflavik was closed partially yesterday and is due to open later today again. SEEDS wishes to forewarn of exaggerated news reports on the eruption but encourages volunteers to keep informed on the developments. Magma is melting its way through the icecap and causes increased water in rivers coming from the glacier. There were some floods in the rivers and water level is still higher than normal. There are restrictions for travelling on the south coast and some roads have been closed. Activity at the volcano right now is described as "gentle" and the current force of the eruption is barely 50 percent of its peak. The intensity of the eruption is less than when it reached its peak yesterday, but remains steady. The plume reached as high as 20 kilometers yesterday, but is now consistent around 10 km. According to geophysicists at the University of Iceland, the eruption is very different from the eruption in Eyjafjallajökull last year. This eruption is projecting basaltic magma, which is rarely explosive by itself. There is melted water flowing into the crater, which causes explosions, but that should cease, which would greatly reduce the production of fine ash particles from the eruption.

AIR TRAFFIC
The ash hurled into the atmosphere by the eruption has caused some disruption of air traffic to and from Iceland. Icelandic scientists, public authorities, the Meteorological Institution and the Icelandic Civil Aviation Administration, remain in close contact with their counterparts in Europe in order to monitor the eruption, the weather conditions and the projected path of the volcanic ash cloud. Keflavik International Airport was partially closed yesterday and according to the newest weather and ash forecasts it will reopen later today and flights will be back on schedule tomorrow. Today, May 23rd, the Icelandic airlines Air Iceland, Icelandair and Iceland Express are resuming flights and passengers flying to or from Iceland are advised to follow updated travel information on the following web pages:

Information from Icelandair: http://www.icelandairgroup.com/volcano
Information from Iceland Express: http://icelandexpress.com/volcano
Information from SAS: http://www.flysas.com/en/is/Generic/Services/Flight-status
Keflavik International Airport - http://www.kefairport.is/English
Information from the Icelandic Civil Aviation Administration: http://www.flugmalastjorn.is/English/TheICAA/News/317

It is not dangerous to visit Iceland! Bright skies, beautiful landscapes and interesting volcanic eruptions. This is the time to visit Iceland and see the amazing art of nature in 24 hour daylight. Share this with your friends around the globe. Of course SEEDS cannot predict the next activity of the volcano but everyones' safety will always be top priority. In the meantime, viewing an active volcano and the power of earth is just one more great thing to do during a trip to volunteer in Iceland. One of the problems with eruptions is that they are unpredictable and most people never get the chance to see one. We hope all will be back to normal soon again.
Please do not hesitate to contact us in case of questions or further information needed.
Find your workcamp
Icelandic Experience
SEEDS main supporters