SEEDS 49. Skriðuklaustur - making history
07.09.2010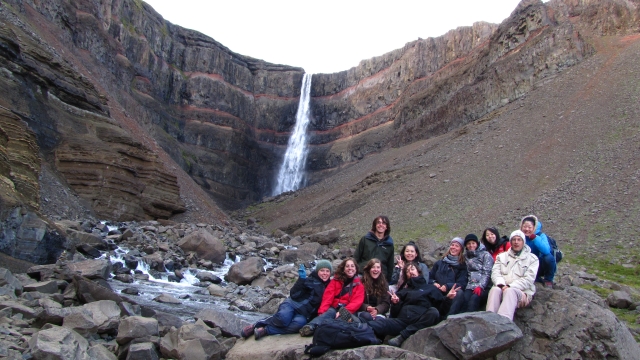 Between the 24th August and the 7th September 2010, 12 volunteers from Germany, Japan, Spain, Austria, Sweden, the Czech Republic, France and the UK helped out at the archaeological site at Skriðuklaustur. Close to the beautiful lake near Egilsstaðir, the location, the accommodation, the food and the work was perfect for Seeds' first workcamp working with Skuli at the Gunnarstofa.
The work involved rebuilding walls where an archaeological dig over the past 9 years had uncovered the site of an ancient monastery, complete with church, housing and graves! The teams' task was to rebuild small walls where the monastery had stood in order to give tourists and enthusiasts alike a real view of where the buildings had once stood. The work was hard, having to move lots of turf and rocks, but everyone came together to support and help each other and the work was completed ahead of schedule. We felt a real sense of achievement as we viewed our work from above the dig site.
The team stayed in the same camp as the archaeologists, and were treated to wonderful food and cakes from the friendly people at the Gunnarstofa, the historic home of Icelandic author, Gunnar Gunnarson. Our host and his team worked tirelessly to really give the volunteers a memorable experience, and a great stay. The volunteers were treated to several excursions, including participating in a local Viking Day, a trip to Seyðisfjörður and to the Karanjukar Dam in Icelands' magical Highlands. The team bathed in a hot waterfall, and were given the fantastic opportunity to ride the unique Icelandic Horse. Many thanks go to Skuli and all at Gunnarstofa for organising such a memorable and rewarding workcamp.
The team was especially grateful for the fantastic cakes to which they were treated. All in all, an outstanding workcamp, the site of which all of us hope to visit again soon!
Find your workcamp
Icelandic Experience
SEEDS main supporters