SEEDS 41. Grettir the strong - Viking festivities
15.08.2010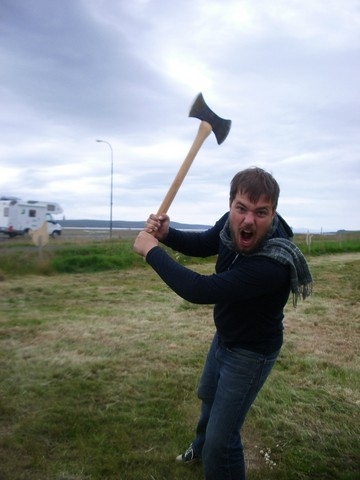 A group of 10 SEEDS volunteers from Belgium, Italy, Japan, USA, England, South Korea, and Germany spent the second half of July in the northwestern Icelandic town of Laugarbakki.

The workcamp was organised around the local Viking festival, Grettishàtith, which took place in a local handcrafts market. We helped prepare the site for the festival: cutting grass, constructing traditional tents, building tables and benches, etc. The work was quite hard sometimes, but very satisfying in the end.

During the festival we helped with some childrens' game such as archery and Kubb, a lawn game that involves knocking over wooden blocks by throwing wooden sticks at them.We greatly enjoyed Viking games introduced by a local folklore group called Hringhorni. After a real Icelandic BBQ at the end of the first day of the festival, the volunteers were ready for "Grettisstak", a strongest man competition! Sadly, we did not stand a chance competing against strong Icelanders!

In our free time, we went seal watching on a boat in Hvammstangi, hiked around a small peninsula, and had some funny experiences with crazy sheep! We greatly enjoyed the amazing views of the local landscape, where we saw the mountains of the Westfjords in good weather! Overall we had an amazing experience. We learned a great deal about Icelandic traditions, enjoyed breathtaking views, and had a bunch of fun!
Find your workcamp
Icelandic Experience
SEEDS main supporters