SEEDS 17. Ísafjarðardjúp - Nature & Fun in the West fjords
22.09.2009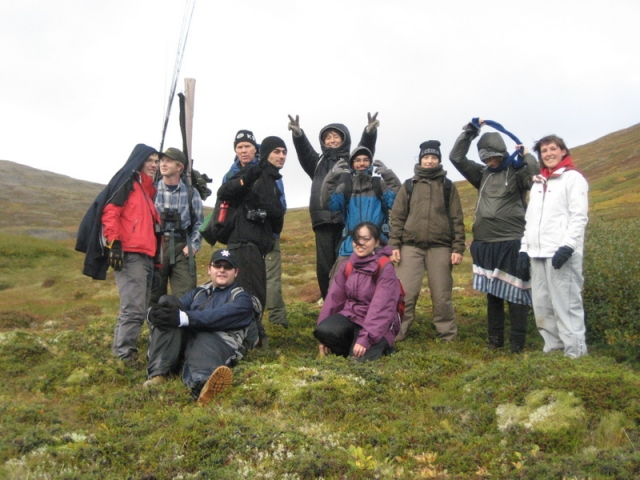 This workcamp took place in the Westfjords. The fjords and the peninsula that make up the Westfjord region in the north-western part on Iceland, account for one tenth of the country's landmass. The workcamp was located in the birch covered Heydalur valley in Mjoifjordur in North West Iceland.

Heydalur is situated in a peaceful place, far away from all traffic and surrounded by enchanted nature. We can say that we were lucky because we arrived during the change of season when the vegetation turned from green to yellow, orange and red.

The volunteers were divided into groups because there were several tasks to carry out. The most satisfying work was building a walking path that connects the camping area to the baths. This activity was undertaken by half of the volunteers for the duration of the workcamp. The other volunteers worked mainly in the greenhouse: painting the exterior walls, cleaning the swimming pool and the interior of the structure, and cutting the grass.

In our free time, we enjoyed the nature of this beautiful valley. For the volunteers it was impossible to get bored. In the first week we climbed to the top of a mountain near the guesthouse. The hike was long because many of us would often stop to eat the blueberries that covered the mountainside. In the second week, another interesting activity was the hike to reach a lake, where we tried without success to fish for trout. In this workcamp we took advantage of the tourist services offered by the Guesthouse. Every day we relaxed in the swimming pool and hot pot. With the help of our fantastic host we were able to go kayaking. This was a very special experience for the volunteers because we had the chance to see several seals, curious about us and our kayaks. We were also able to ride and visit Isafjordur, the capital of the Westfjords, thanks to the car that the host had provided us with.

We invited the host and two young girls working in the guesthouse to our International evening. The evening was a success and was helped by the presence of Oscar and his family, who came to visit us for the weekend. To thank us for the international evening, on the last day of the workcamp the host organised a party at which we could enjoy Icelandic cuisine. Very good!
Find your workcamp
Icelandic Experience
SEEDS main supporters