SEEDS 03. The highlands of Iceland - The famous Kjölur road!
29.06.2009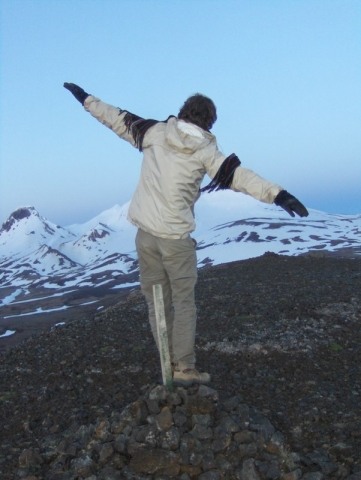 This workcamp took 7 volunteers from 4 different countries – Austria, France, Germany and Italy – to the remote place of Kerlingarfjöll. Kerlingarfjöll is a collection of mountain huts about 20 minutes from the famous Kjölur road, which allows visitors in good motorized vehicles to cross the Icelandic Highlands.
Kerlingarfjöll has seen better days – Up until 30 years ago it was the place to go for some good summer skiing. With global warming, however, the beautiful area situated between the glaciers Hofsjökull and Langjökull is now almost snow-free. The mountain resort is now open for visitors, adventurers and hikers from all over the world.
Before the start of the season, however, it needed some brushing up! Literally. This is where the brave volunteers come in. The work was mainly painting wooden houses in the typical Scandinavian red outside and white inside. We restored a rusty container and turned it into a cosy changing room for visitors of a natural hot tub situated in a canyon 20 minutes from the resort. Later, the strongest and bravest worked around the geothermal area of Hverasvæði, started building a hot tub out of rock and stones, pulled bridges back from where the harsh winter had taken them, ...
During the free time, the area was explored. The volunteers set off on a number of different hikes, through snowfields to the smoking Hverasvæði valley or through the stone desert towards the glacier Hofsjökull. On a weekend hike, we explored a canyon, around which an Italian expedition has been and is looking for the Holy Grail. Leonardo da Vinci's The Last Supper is said to contain a secret map of the area around Kerlingarfjöll! We are unsure of when Leonardo had the time to visit the Icelandic Highlands, but some of us nevertheless peeked down the canyon, behind a waterfall and into caves – maybe you are luckier?
Find your workcamp
Icelandic Experience
SEEDS main supporters