SEEDS 10. Suðureyri í Tálknafirði - Like in the old days!! (2)
02.09.2009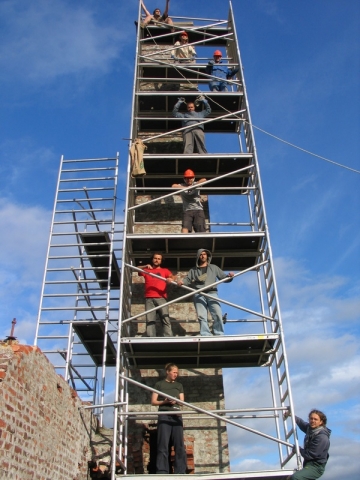 Suðureyri is a place which is almost impossible to find on a map of Iceland. It is an old settlement on one of many beautiful fjords in the Westfjords (north-western part of Iceland).
At the beginning of 20th century it was a busy whaling station where dozens of workers lived; today it´s a place for weekend visits for only a few families. Proud of the history of Suðureyri, also our host, is trying to preserve the historical heritage of this site, where he was born and raised.
On the first two days of the workcamp our group stayed in the town of Patreksfjördur. We took part in a "Pirate theatre", prepared by locals in an old workshop for the community. This beautiful place, full of machines, tools and spare parts was recently transformed into a café and community centre. For one and a half days, we were practising our roles, preparing the place for the drama and finalising preparations. Finally, on the second evening about 40 local people visited the venue, where mostly SEEDS volunteers played their roles.
But, as "Like in the old days" was the title of our project, volunteers could not rely on many comforts of modern civilisation for long. This included lack of electricity and showers and living in a remote and abandoned place. We also stayed all together in a small summerhouse, sharing all the basic facilities. From time to time, a small boat filled with some volunteers went into the fjord in an attempt to catch some cod fish, to be prepared for dinner.
In the past, our host already hosted three groups of SEEDS volunteers, for which the working description was similar – to prevent the old ruined buildings of the whaling station from falling apart. Our work consisted of building scaffolding, repainting the brickwork with cement and building drainage systems around the ruin... Part of the group always took care of kitchen duties and was also responsible for picking blueberries and fishing in the sea.
Despite some expectations, our host did not let us live without some "comforts of the civilisation" all the time. Every second day, we had an opportunity to visit amazing natural hot pots on the other side of the fjord, and the local swimming pool. One whole weekend we spent in the cute village of Bíldudalur, surrounded by spectacular mountains which provided us great opportunity for hiking.
Our group was trying to live in harmony with the environment, respecting and protecting it.
Find your workcamp
Icelandic Experience
SEEDS main supporters