SEEDS 19. Hólmavík hiking paths
20.06.2009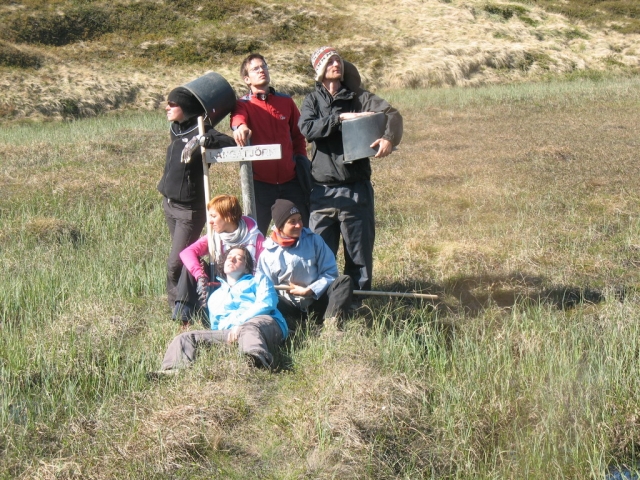 Hólmavík, a town of about 300 people is one of the largest settlements in the West Fjords. This region, with an area as large as Wales, but populated by only 7000 people, is attracted by a rising number of tourists who enjoy its beauty and special, quiet atmosphere.
Our small group of six volunteers from "seven" countries (Poland-Ireland, Italy, Portugal, Czech Republic, England and Slovakia) were fixing a walking a path located very close to the town. In a short time we became gravel specialists, in closing parts of the path and building new ones and removing signs. We graduated in fixing eroded paths and building small bridges and steps made out of wood.
We could have hardly imagined more kind and welcoming hosts than Lilly and Ásta who have been living in the town for years. They helped us to feel at home in the cute town of Hólmavík. In addition, we visited the non-touristic island of Grimsey to observe puffins and other birds nesting in the grass, we went fishing in the Ocean, we visited the only glacier in the West Fjords and enjoyed Icelandic horse riding in the wild Icelandic nature. We even saw a real witch in the museum of Witchcraft and Sorcery, fed lambs with milk … and much more.
In our accommodation at the local school we enjoyed cooking our local dishes - especially cakes and fish dishes were plentiful.
Our cooking skills were finally presented at the international evening. Here, we met many people living in or visiting the town. We prepared a fun quiz for all who wanted to participate – the questions were connected to us, our countries and the work we had done in Hólmavík. The local hosts invited us for the best of Icelandic cuisine – lamb heads cut in half, shark meat with "Brennivín" sauce or lamb soup.
During almost two weeks we finished more work than was planned. We hope this will help both the locals and tourists to enjoy the beauty of the West Fjords even more than before.
Find your workcamp
Icelandic Experience
SEEDS main supporters