SEEDS 22. Hvammstangi & Reykjaskóli - Youth Arts Festival
18.07.2008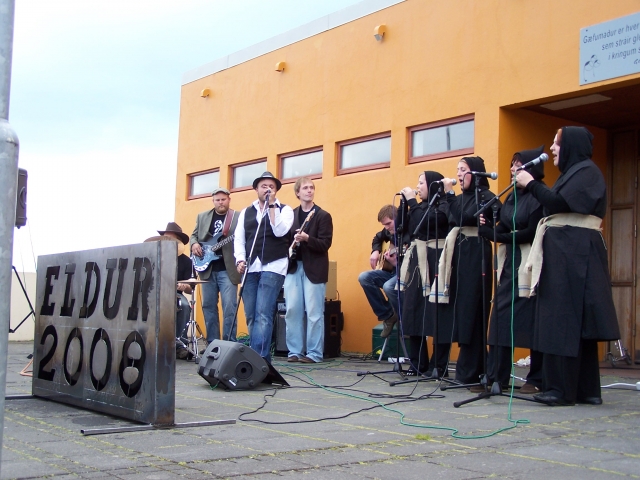 SEEDS volunteers return to Hvammstangi in this 2009 again to support the town in different activities this summer!
Volunteers work in two different locations, for the first part of the project in the old boarding school of Reykjaskóli. After the first week there, we move to the town of Hvammstangi (a few kilometres away from Reykjaskóli). In Rekjaskoli the group is hosted in the boarding school. The volunteers had single and double rooms. For the meals we were as lucky as the kids: the manager of the school was cooking for us everyday!
During this week the work was maintenance in the public and green areas: weeding around the buildings, cleaning inside (getting the rooms ready for the next classes) and painting the swimming pool (decorating the area with paintings). During the free time, the volunteer group visited the museum of the village, spent a day in Hvammstangi and explored the seal museum. A great option was the swimming pool with its sauna and hot pots!
In Hvammstangi the group will stay in a guest house of our host at the Café Síróp.
The work consists of preparing the local Youth Arts Festival "Unglist" - Unglistahátíðin, Eldur í Húnaþingi" or "Fire in Húnaþing", which takes place between July 23rd and 27th, 2008. Some of the volunteers will participate to the opening show (acting on the stage or playing music), others organised a dance workshop, will help the staff of the Síróp, etc. Additional work with kids will be done, painting faces and setting up equipment and gardening jobs.
Our hosts organised an excursion in Vatnsnes peninsula on a nice sunny day! During the free time volunteers go to the swimming pool of the town, shop, walk and enjoy the stay in the nice bar with local people. The evenings, they have the opportunity to assist the concerts and shows, as part of the festival.
Hvammstangi is the most densely populated area in the west Húnaþing County. It has a population of about 600 people and it is located around 250 Km north of Reykjavík.
Trading has taken place at Hvammstangi for over 50 years and the Trading Museum by the harbour displays it's detailed history.
From Hvammstangi it is only a short journey to Vatnsnes with its wealth of varied historical sites, beautiful scenery, and great views of the mountains at Strandir. Last but not least is the seal habitat within easy walking distance. Seals can be spotted in many places in Vatnsnes.
The beauty of the district is among other things conveyed in beautiful farms, three major salmon rivers, the shores of the Vatnsnes peninsula, big lakes, ravines and pillar rocks.
For more information on the town, please go to http://hunathing.is/
Find your workcamp
Icelandic Experience
SEEDS main supporters