SEEDS 04. Island of Viðey: History, Nature & Art
02.07.2008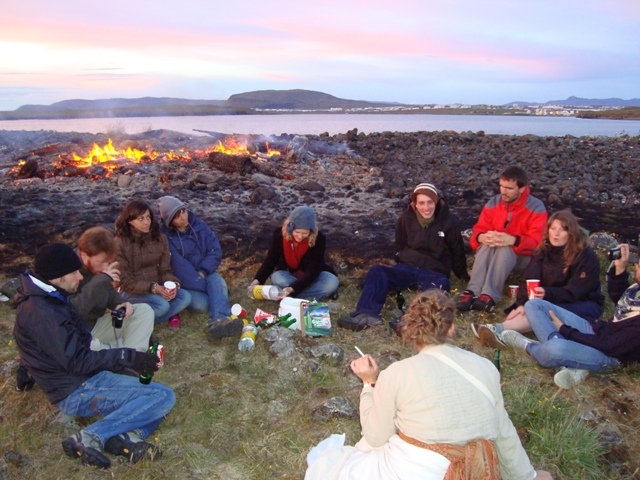 The small, uninhabited Island of Viðey is only a 5-minute boat journey from Reykjavik but it could be the end of the world.
Facing Mt. Esja on one side and the capital city, just out of reach on the other leads to a sense of both tranquility and isolation. The beauty and silence makes for a very inspiring place and this is reflected in the public art works adorning Viðey. Richard Serra and Yoko Ono both have permanent pieces on show.
Our camp consisted of four nationalities; Czech, French, Italian and British and we made a big difference to the coastline of this magical island. The main activity was collecting the rubbish and driftwood washed ashore in the most popular and accessible areas of Videy so they can be disposed of appropriately. We also helped organize and co-ordinate the annual Viðey festival with our host Gulla!
With our haul of driftwood we celebrated a job well done in true pagan fashion with a BBQ and bon fire on the beach as the sun went down (and quickly came up again). From the wood we considered too nice to burn and with a few other found objects a monster was born! The creative energy on Viðey inspired our volunteers to contribute to the Beauty and the Beast competition and on a sunny day you may still spot our sea monster nesting in the seaweed and rocks.
Along with 30,000 others we were lucky enough to attend the free open-air concert Náttúra where Sigur Rós and Björk played to raise awareness of Iceland's unique nature and the need to protect it from large-scale industry. This provided a fitting treat for our hard working volunteers.
More info on Viðey can be found at http://www.reykjavik.is/desktopdefault.aspx/tabid-3026/
Find your workcamp
Icelandic Experience
SEEDS main supporters