SEEDS 02. Þórshöfn & Bakkafjörður - Langanes Peninsula
20.06.2008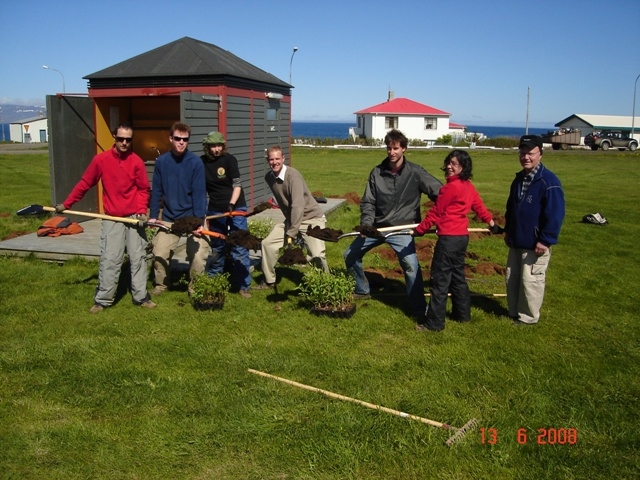 SEEDS volunteers from France, Portugal, Lithuania, Spain and England are at the moment in Þórshöfn keeping up the good work done by SEEDS during the past years around the Langanes Peninsula..
After a long drive from the west fjords, we arrived on a rainy evening to be met by Aggi, who had already learnt our names. Our main task is to plant trees using different tecniques depending on the soil conditions. Some areas had been pre-prepared so we simply have to make holes in the ground with a special tool and stick the small trees into them.
In other places the task was not so easy. We spent a lot of time filling holes with manure and soil before planting the trees. In most cases we were planting willow trees as they offer a lot of shelter to the villages. Sometimes we split into different groups to do various tasks such as tree maintanance. The majority of the tasks are situated in Þórshöfn but some days we went to Bakkafjörður to plant trees and one day we cleared a stretch of coastline on the langanes peninsula.
We stayed in the primary school and had access to the sports centre so we made full use of the hot pot and swimming pool. During the first week we had an international evening where we prepared some foods from our countries and had a chance to meet the local community. It was also great to meet all the kids on the football pitch!
Aggi took us on a number of trips to places in the area. We went to Dettifoss (the most powerfall waterfall in europe), Ásbyrgi, bird watching, horse riding and hiking.
Volunteers have planted so far more than 2000 trees around Þórshöfn and Bakkafjörður; they also have cleared 2 Km. of coast at Langanes point and moved stones to surround the school in the town of Þórshöfn.
The volunteers have greatly enjoyed their time working in Langanes and would like to extend a big thank you to the communities that are so hospitable. Hopefully SEEDS will continue to work in this beautiful area of Iceland for many years to come.
For more information on the township, please visit:
Find your workcamp
Icelandic Experience
SEEDS main supporters