SEEDS 17. Reykjavík: Hinsegin Dagar, Menningarnótt & Maraþon
08.08.2007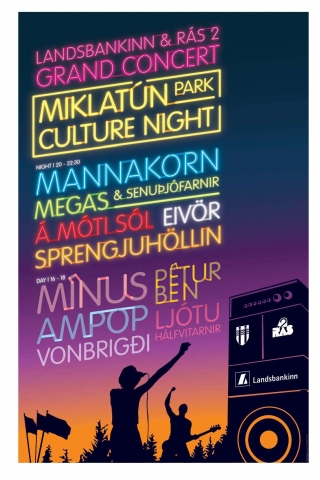 As last year, a group of international volunteers from SEEDS, SEE beyonD borderS, are in the city supporting the 3 biggest festivals in Iceland, the Gay Pride, the Marathon and the Culture Night.
This year the group is formed by 17 individuals from 9 different countries Czech Republic, Finland, France, Germany, Italy, Slovenia, South Korea, Spain and the UK. They will stay in the Icelandic capital for 2 weeks and will support the organisation of these 3 huge events; additionally they will volunteer for the public and green areas department of the city.
SEEDS in Iceland organises international voluntary service projects on environment, nature and outdoors related issues. Some of them are directly related to festivals, artistic, cultural or sports gatherings.
This summer SEEDS has 25 projects located in every corner of the Icelandic map and more than 300 volunteers from 32 different countries participate. SEEDS Iceland also provides opportunities for Icelandic volunteers to support diverse types of projects in more than 70 countries all around the globe.
For more information:
On the Gay Pride, visit http://www.gaypride.is/
On the Culture Night, go to http://www.menningarnott.is/
On the Reykjavíkur Marathon, see http://www.marathon.is
SEEDS Sjálfboðaliðar í Reykjavík
Alþjóðlegir sjálfboðaliðar frá SEEDS, SEE beyonD borders, eru nú staddir í Reykjavík til að aðstoða við þrjár stærstu hátíðar landsins, Hinsegin Daga, Reykjavíkur Maraþon og Menningarnótt.
Hópurinn saman stendur af 17 þátttakendum frá 9 mismunandi löndum, Tékklandi, Finnlandi, Frakklandi, Þýskalandi, Ítalíu, Slóveníu, Kóreu, Spáni og Bretlandi. Þátttakendurnir munu dvelja í Reykjavík í tvær vikur og aðstoða við framkvæmd hátíðanna en einnig leggja þau framkvæmdasviði Reykjavíkurborgar lið með vinnu á almenningssvæðum borgarinnar.
SEEDS eru íslensk sjálfboðaliðasamtök sem skipuleggja alþjóðlega sjálfboðaþjónustu á umhverfis-, náttúru- og menningartengdum þáttum sem sumir hverjir tengjast beint hátíðum, menningarviðburðum eða íþróttasamkomum.
Í sumar hefur SEEDS hefur skipulagt 25 verkefni um allt Ísland þar sem meira en 300 sjálfboðaliðar hafa tekið þátt frá 32 mismunandi löndum. SEEDS gefur einnig íslenskum sjálfboðaliðum tækifæri til að taka þátt í alls kyns verkefnum í um 70 mismunandi löndum.
Frekari upplýsingar má finna á:
Find your workcamp
Icelandic Experience
SEEDS main supporters