Our camp leader Katka talking about her experiences in camp SEEDS 018. The Highlands North of Vatnajökull Glacier
14.06.2022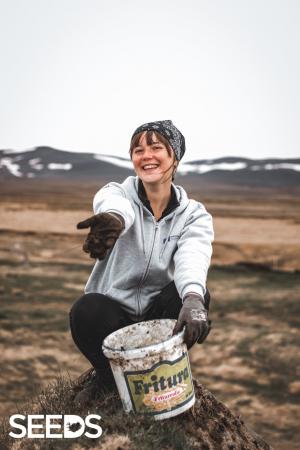 "SEEDS greetings from the northeastern farm in Icelandic highlands, Möðrudalur.
Our host Elisabet Kristjansdottir and Vilhjalmur Vernharðsson prepared variety of activities for us. So far we were fertilizing turf so turf roofs get more green and healthy. The idea of the traditional turf style was to allow people to experience an old-time atmosphere to some extent. And we are part of creating this experience.
Other than that we were fixing and painting hiking paths, collecting Icelandic moss for traditional soup of the farm, and of course doing some trash hunting. We collected more than 9 bags of trash.
Besides work we try to see and experience as much as we can. One evening we went to a beautiful canyon which is undoubtedly hidden gem of the area. There were no tourists, just us. We needed to cross river more that 6 times but it was worthy all those wet feet and clothes.
We are lucky to live in a place that is connected with nature. Food we eat is local and produced on the farm. If I can speak for myself I have never eaten better bread in my life. Plus we are surrounded by all kinds of animals. From dogs, cat, sheep, goats, rabbits, gooses. They even have baby arctic foxes. Its just pure beauty everywhere we look."
- Katka, the camp leader of SEEDS 018. The Highlands North of Vatnajökull Glacier
Find your workcamp
Icelandic Experience
SEEDS main supporters