My volunteering experience - testimony from Ava Kabouchy, a short-term volunteer of SEEDS
13.04.2022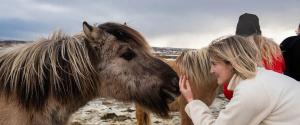 Ava, our participant of the camp SEEDS 004. Environment & Photography - February wrote an article about her experience during the 10 days of volunteering.
Ava is originally from the USA, specifically from Maine, but currently lives in France.
She inspired everyone with her amazing photographs of Iceland as well as her creative writing.
In her article she writes about:
Volunteering in Iceland

Reminders of how we damage the environment

A challenging language and climate

Educational activities

Visiting a geothermal plant and other trips

The beauty of Iceland's nature beyond tourism

Thermal pools in the snow

Admiration for those willing to help
Read her article here: Natural Iceland Explored Through Environmental Tourism (goworldtravel.com)
Find your workcamp
Icelandic Experience
SEEDS main supporters