Plogging Week with SEEDS!
10.01.2022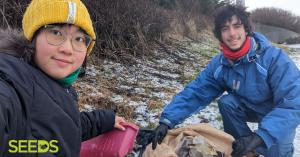 Plogging Week with SEEDS!
WHERE: anywhere!
WHEN: anytime!
with WHOM: invite your friends and family!
Do you actually know what plogging is? The term plogging comes from two words - jogging and "plocka upp", a Swedish term for "picking up" (as the trend started in Sweden).
The idea is very simple: whenever you go out, pick up the litter you see around and help the local environment.
You don't necessarily have to run; you can do it when you walk your dog, cycle, on your way back from work, going for a walk, or skateboarding, whenever it suits you!
You will quickly notice how much difference your contribution can make. Plogging is a change of attitude; being proud of collecting garbage and making the world around you a better place.

All you need is a pair of gloves and a reusable bag.
See you around!
Find your workcamp
Icelandic Experience
SEEDS main supporters