SEEDS VC 105. Virtual Camp Environmentally Aware - Learn from Home
12.03.2021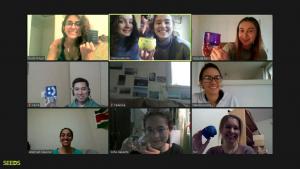 Even though it's hard to work on the computer for a long time, we cannot appreciate enough how many special and beautiful people we got to meet during our virtual camps!

Our latest camp - SEEDS 105 Virtual Camp Environmentally Aware Learn from Home - hosted participants from Colombia, Suriname, Brazil, Ireland, Slovakia, Czech Republic, Turkey and Kazakhstan, with the leaders from France and Hungary, based in Iceland!

We broke the ice with drawing games that were so much fun that we couldn't stop laughing, baked delicious bread and cooked vegetarian fake meat together, learnt about environmental issues and talked about possible solutions, watched interesting documentaries, got to know each other's cultures better and finally stretched and calmed down with some yoga and relaxation.

We are so happy to have met these wonderful people from all around the world and we hope that they also leave this camp with a warm feeling in their hearts.
Find your workcamp
Icelandic Experience
SEEDS main supporters