SEEDS 005. Environment & Photography - March
20.03.2021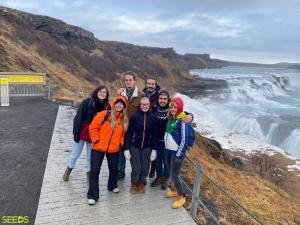 Our new Environment & Photography Camp started in the best possible way!
We immediately created a beautiful connection within the group, getting to know each other through icebreaker games and sharing our knowledge and interest for environmental and photography issues.
We practiced using basic camera settings, discussed solutions to improve our carbon footprint, focused on climate change and social injustice and learnt how to make a perfect homemade compost.
Thanks to the improved situation with Covid we had the chance to visit the local swimming pools and go to some local bars to get to know a bit more about the Icelandic culture, beyond theoretical presentations and workshops.
As a reward for the previous days work, we decided to explore the famous Golden Circle and were all delighted by the immense beauty Icelandic nature has to offer. We cannot wait to find out what's next in store for this camp!
Find your workcamp
Icelandic Experience
SEEDS main supporters