SEEDS VC 104. Virtual Camp Environmentally Aware - Learn from Home
03.03.2021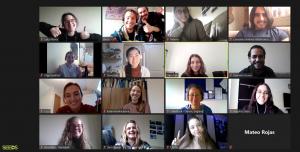 While waiting for the end of the winter we stayed warm with a new edition of our virtual camp in the end of February: SEEDS VC 104. Virtual Camp Environmentally Aware - Learn from Home. Many participants from all over the world joined our discussions for superb moments of exchange and conviviality.

This camp brought people from Colombia, Russia, Portugal, Ireland, Wales, Great Britain, France, Italy, Germany, Slovenia, Slovakia and Estonia together - not to mention our special guests from Hungary, Romania, Poland and even Switzerland!

In addition to the countless cultural exchanges, we discussed ecological topics that are as diverse as they are enriching. During the workshops, we talked about our ecological footprint, how to reduce it, how to deal with ecomyths (greenwashing and ecologic marketing), as well as how to eat, dress and travel in a more sustainable way. We talked about cooking, photography, permaculture and geopolitics. A rich and intense program that allowed us to reflect on our way of living while sharing a lot of good humor!

We already miss our participants a lot, but we know that we can always visit them in their home countries.
Find your workcamp
Icelandic Experience
SEEDS main supporters