SEEDS 002. Environment & Photography - January
18.02.2021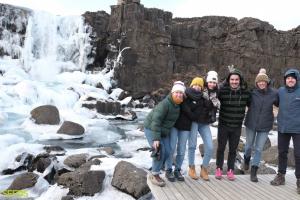 The first camp of 2021 took place from 19th to 28th of January in Reykjavík. The group of volunteers connected through cooking together, sharing food (mostly vegan dishes) from many different places, through strategies and game plan, playing music and singing songs, photography and enjoying memorable sunrises and sunsets. We learned about each other's backgrounds and hometowns. We bonded through drawing portraits and sharing our goals, wishes and accomplishments in a tea ceremony.

We gained an understanding of how we can change our habits towards a more green behaviour, of urban agriculture and of sustainable fashion. We shared ideas about local environmentally friendly solutions and projects. We made beeswax food wraps ourselves so that we could bring sandwiches and self made energy bites to our excursions in a way without creating so much waste. We went trash hunting and still found a lot of litter and debris from the New Year's fireworks. We learned about all the different types of whales, about their environments and their endangerment in the Whale Museum.

We played with snow and ice, we battled the wind, we struggled to get out of the car but were rewarded with mesmerizing views of breaking waves at the black sand beach, with hearing strange noises of the moving glacier and feeling the water on our skin. Our jackets froze because of the icy waterfalls, we took many pictures, the perfect video of an erupting geysir, we stopped and petted horses.

We enjoyed cakes and hot chocolate in a coffee place. We tried local specialties and we did a podcast together to exchange interesting facts about our cultures and experiences.

Thanks to all for those unforgettable days together.
Find your workcamp
Icelandic Experience
SEEDS main supporters