SEEDS VC 102. Virtual Camp Environmentally Aware - Learn from home
04.02.2021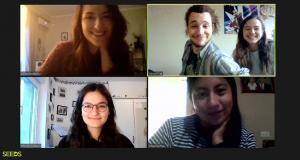 At the end of January we renewed the virtual camp experience in our camp SEEDS 102 Environmentally Aware - Learn from Home. We were able to receive some sun from the other hemisphere here in Iceland! We were lucky to have participants from Colombia, Greece, Germany and Turkey.
This virtual camp was characterised above all by magnificent smiles. Our participants were friendly and committed, always eager to share. These 10 days of sessions were very interesting and really enjoyable. Thank you again to everyone for these beautiful moments <3
Over the course of the camp, we talked about a diverse range of topics:
- Agriculture (urban agriculture, permaculture, local sustainable projects): to promote the benefits of local consumption, or even to produce food yourself.
- Tourism: to raise awareness of its environmental and social impact and reflect on how to travel in a more responsible manner.
- Climate change: to better understand this complex phenomenon and its impacts, with the example of the geopolitical opportunities that it represents (the new Arctic Silk Road).
- Our daily consumption behaviour and habits: whether it is our clothes (the impacts of fast fashion), beauty products (how to make your own care products), our way of eating (the ecological impact of our food consumption and a vegan cooking workshop) or just general tips on how to make our daily lives greener.
- We discussed documentaries on the topic of sustainable development.
- Last but not least, we shared facts and stories about our different cultures and learned from the others, with country presentations by each of our participants and camp leaders. In addition, we cooked typical dishes from our countries in a vegan way to learn recipes from the other side of the world.
Everyone enjoyed these days together, especially getting to know each other and we were sad to say goodbye at the end of the experience. Hopefully we can meet one day and visit each other's countries!
Find your workcamp
Icelandic Experience
SEEDS main supporters