My volunteering experience - Calina Porto
25.01.2021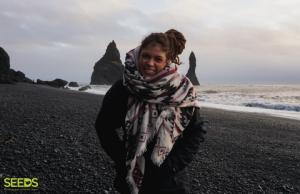 I am Calina and my experience with SEEDS started when I was 23 years old and when I was already living in Portugal.
But you might be thinking: Why Iceland? Well, I usually say that I did not choose Iceland. Iceland chose me.
Everything started because I was looking for a volunteering project to be part of. Yes, with a lot of nature and related to education, environment, culture, and sustainability. But no, not in countries with really cold weather and little sunlight.
The point is, even with the "cons" when I heard about SEEDS, I got interested in the organisation and… surprise! There were no free places in the project. One month later the opportunity just came up and SEEDS chose me to be a long-term volunteer during four magic months.
I believe it happened because I opened myself to this experience. I knew that the country would have dark and cold days, that I would have to share my room, that the food would not be the same and that the people would have customs and habits different from mine. However, I wanted to challenge myself to do this.
Now I can say that I mainly have good and beautiful memories of this time. For example, I remember the first day, on the 31st of august, when I was coming home (Mikla house) for the first time and I was delighted by the beauty of the mushrooms I found on my way. There is no explanation for how enchanting and mystical the nature in Iceland is. Everything has a different colour, shape, size, energy and believe me: you can discover and learn about valuable and powerful creations of nature there!
Well, the beauty of Iceland was also in the SEEDS family. Our cosy house was always full of plants growing in the skyr pots close to the windows, a big number of shoes at the entrance, cups of tea scattered around the rooms, cards on the table, and post-its placed everywhere. It explains a lot about the other fourteen volunteers who were living in Mikla Up: really caring, passionate, nature lovers, creative, communicative, and funny people.
Yes, we were people from different backgrounds, but who had the same objective of having a new experience, acquiring knowledge, and sharing with others how they could be more aware about environmental issues and more eco-friendly in their lifestyles.
In fact, our aim was our task. Most part of the volunteers were camp leaders, as me. Our role was to lead the workcamps and virtual camps creating activities, debates, workshops, games, and presentations to facilitate the cultural exchange between participants and to stimulate their critical thinking about the impact of their actions on the planet.
But the experience with SEEDS was not only this. We were constantly encouraged to participate in activities with other associations of the country and to create and develop our own projects. The office team was always supporting us and making sure we were happy to be there.
Happiness. This word can describe my time in Iceland. Once again, I want to say I only have good memories of living there. Even with the world pandemic situation, and with all the changes this has caused in the way things normally work, it is easy for me to see the positive side of these crazy times.
All of this because in these crazy times I became part of a beautiful family, I learnt, I shared, I met lovely people, I explored new places and I discovered different cultures. I helped others, I lived in the middle of a garden, I almost flew with the wind, and I spent time on an uninhabited island, too. I played in the snow, I watched the northern lights, I walked in the forest, I saw polar stratospheric clouds, I planted trees, I felt an earthquake and I screamed on the top of mountains. I cooked, I ate tasty and healthy food, and I tried bad food, too. I swam in the cold water and I bathed in the hot tubs. I danced in the streets, I painted on the sofa and I played games until late in the night. I participated in parties and I played music with people who had no idea how to do it. I laughed, I cried, I lost some habits and I created new ones. I inspired people to be crazy and I became crazy with them. I received good massages, I gave tight hugs, and in the end, I realised that I fell in love.
Of course! It would be not possible to leave Iceland without falling in love. With nature, with SEEDS and with the amazing people I met and let there. Now I feel blessed to have spent these unforgettable months on this island. It was an enriching and really growing experience for me.
With love,

Calina Porto
Find your workcamp
Icelandic Experience
SEEDS main supporters