SEEDS 043. Between Glaciers & Lava
26.06.2020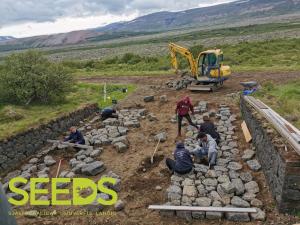 We are happy to introduce our new long term volunteers to our pilot camp in the beautiful west part of Iceland where they will learn from our more experienced camp leaders how to do the job hands-on.
The camp gives them insights into a diversity of activities from building a path with lava rocks to working on a future church. And after all the hard work is done, they can enjoy their free time relaxing in a bubbling hot tub and visiting a nearby waterfall.
So welcome to Iceland, newbies. Great adventures are waiting for you!
Find your workcamp
Icelandic Experience
SEEDS main supporters