SEEDS 042. The Hot Spring capital - Sustainable future in the flower town
16.06.2019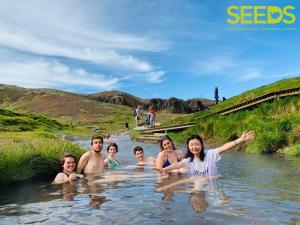 The work camp was held in Hveragerði, a town that is renowned for greenhouse gardening and its geothermal springs. Since the whole town was preparing for the upcoming Flower festival (Blóm Í Bæ Festival), our main tasks were mostly connected with the preparation of the town for the festival.
The majority of of the time we were pulling and removing weeds in the public recreational areas of the township (swimming pool, church, next to the school...). In addition to this we got to plant some beautiful flowers and plants in the area that we previously prepared.
We used our free time to explore the surrounding area, we also hiked to the Hot river, which was beautiful and relaxing. We also had the opportunity to join a group in visiting the famous ice cream factory – Kjörís, where we got to try one of their most known Popsicle.
Our time in this lovely town was accompanied with amazing sunny weather and a lot of interesting discussions.
We all tried new things, me one week without cheese and our vegan Nico without olive oil ! The experiment was a success so we all got a something out out of it : ICE CREAM; CASHEWS and a lot of fun !!
Kristina Štefanič, Camp leader
SEEDS 042. The Hot Spring capital - Sustainable future in the flower town, held between 06.06 and 16.06
Find your workcamp
Icelandic Experience
SEEDS main supporters