SEEDS 039. Botanical gardens in Reykjavik (4:9)
15.06.2019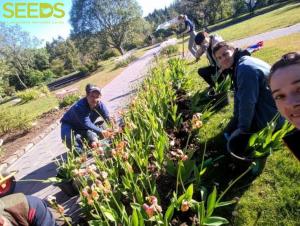 I volunteer to make the world a better place. When I meet other volunteers from all over the world I see the hope. People from: Korea, Mexico, Spain, Serbia, UK that came a long way in Iceland to contribute with their energy, time, ideas for our cultural exchange in the Botanical
Garden camp. It's just the definition of altruism.
If I mention that the age doesn't matter for volunteering, would you believe me? We had the pleasure to have with us a cute couple from UK. They let home 2 grandchildren. What about the activities? We were working in the Botanical Garden of Reykjavik helping people there to make the garden cute and nice.
The most important part? At the beginning we were a little bit sceptical about gardening and the possibility to get bored. Was the opposite! The most relaxful activity.
The volunteers learned about the Icelandic flora, planting, weeding, how to make compost from food left overs. On the other hand, they improved their skills as: communication, teamwork, time management. Values as empathy, kindness and love for nature was also practiced.
I will remember their time spent together cooking delicious dinners, me dancing salsa with the spanish volunteer, how gardening can be used as a instrument for calming the mind and discussions about habits of buying and reducing consumerism with circular economy.
Every volunteering experience is bringing awesome things.
Come and join us!
A lot of FUN.
Andrea, Camp leader from Romania
SEEDS 039. Botanical gardens in Reykjavik, held between 02.06 and 15.06
Find your workcamp
Icelandic Experience
SEEDS main supporters